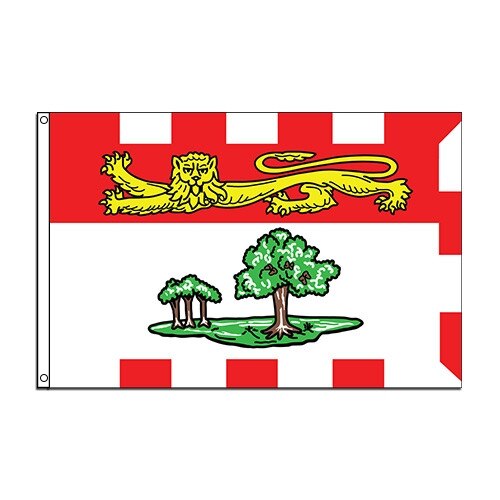 Prince Edward Island Flags
Details
Our Prince Edward Island flags are attractive and durable. These flags show off your pride and support for the province with classic style and beautiful craftsmanship.
Carrot-Top's Prince Edward Island province flags:
Showcase bold, red, yellow, green, white and brown colors
Are fashioned with superior 200 Denier Solarguard® nylon
May be purchased in 2 convenient sizes:
3'x 6' suitable size for official display with Canadian flag
3'x 5' industry standard size for display at homes, schools, churches and other locations
Feature a single reverse image and are fitted with strong header and brass grommets
Designed for long term outdoor use
Prince Edward Island flags evoke the strong traditions and history of the province with a replication of its Coat of Arms. A golden lion appears in the upper third of the flag and it also showcases three small oak trees clustered together next to one large oak tree. Red and white trim borders three sides of the flag. The British lion highlights the province's link to Great Britain while the three small oak trees represent Princes, Queens and Kings, the three counties of Prince Edward Island. The larger oak tree signifies Canada and Britain. The flag was adopted on March 24, 1964. Prince Edward Island joined the Confederation of Canada on July 1, 1883. The Coat of Arms was adopted in 1905.
Our Prince Island flags showcase Carrot-Top's highest standards of craftsmanship and quality. These superior flags are fashioned in two sizes: 3'x 5' and 3' x 6'. Carrot-Top's nylon flags are fashioned with 200 Denier nylon that dries quickly and waves beautifully in the slightest breeze. Prince Edward flags are best suited for locations with light to moderate winds.
Carrot-Top offers the finest Canada flags which also include flags of each province and territory. We also offer flags of countries from almost every corner of the globe. Our wide assortment of finely-crafted flags of Major League Baseball team flags such as the Toronto Blue Jays. Browse our collection of American flags for U.S. flags in several sizes and fabrics. For further details, please fill out our contact us form and one of our Customer Care Representatives will be in touch with you.