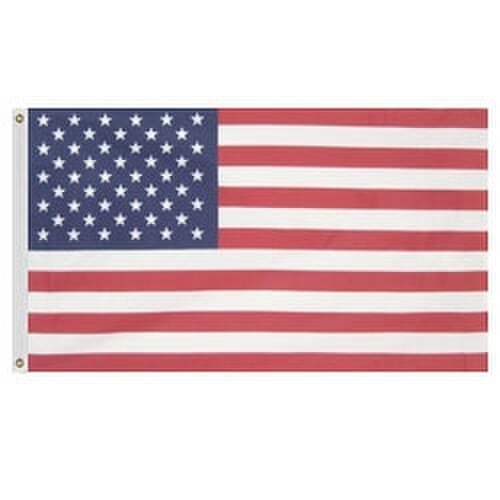 5' X 8' PRINTED U.S. FLAG
Details
Full Product Details of our 5x8 Ft. Printed U.S. Flag:


Celebrate the spirit of the United States with our remarkable Printed Nylon U.S. Flag, featuring dyed stars and stripes. Unlike flags with sewn stars that obstruct light, our Sun-Glo flags are designed to radiate brightly when the sun shines upon them. Crafted with utmost care, each flag is finished with lock-stitched hems, a poly-woven heading, and sturdy brass grommets, ensuring exceptional durability.


lock-stitched hems

a poly-woven heading

sturdy brass grommets

UV resistant SolarGuard Nylon

Made in the U.S.A




Discover Alternative U.S. Flags that Carrot-Top Offers!


Built for Low to Medium Weather Conditions:


Experience the durability and vibrant display of our 5x8 ft. Beacon® Nylon American Flag. Crafted with high-quality nylon fabric, this flag is designed to withstand moderate weather conditions while maintaining its bold colors and impeccable stitching. Ideal for residential or commercial use, it proudly represents your patriotic spirit.

Built for Harsh Weather Conditions:


When facing extreme weather conditions, our 5x8 ft. Patriarch Polyester American Flag is your best choice. Made from robust polyester material, this flag is engineered to resist the harshest outdoor elements. Its reinforced stitching and UV-resistant properties ensure long-lasting beauty, making it an excellent option for areas with challenging weather patterns.


Built for Indoor or Light Outdoor Use:


Looking for an American flag suitable for indoor display or light outdoor use? Our 5x8 ft. Cotton American Flag combines classic elegance with versatility. Crafted from premium cotton fabric, it offers a soft and traditional look while maintaining its durability. This flag is a great option for classrooms and historical displays

Explore our Complete List of American Flags:


For a comprehensive selection of American flags, make sure to browse our complete American flags collection. From different sizes and materials to specialized flags for specific occasions, you'll find the perfect flag to suit your needs. Celebrate your patriotism with our diverse range of flags that are crafted with exceptional quality and attention to detail. Contact our Flag Pros for any questions or advice.