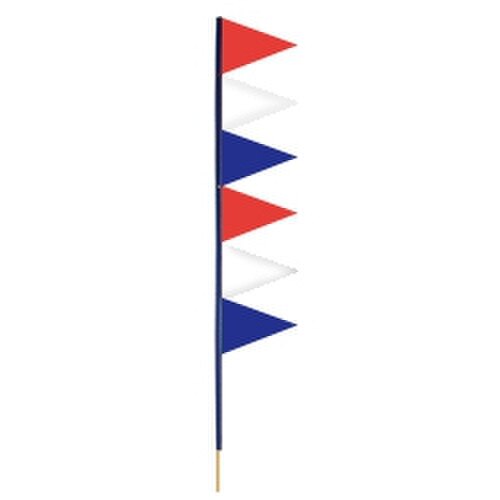 Red, White & Blue Wiggler® Pennant Flag Set
Details
Our red, white and blue wiggler® pennant flag sets are colorful tall in-ground pennant displays that come in a set of six pennants and six poles. These pennants are perfect for attracting attention or for use as decorations for a patriotic party.
These red, white and blue wiggler® pennant sets can be used in any outdoor display where in-ground display is possible (grass, sand and other soft ground areas). For more information see the description tab below. To order enter the number of units desired and click on the "Add to cart" button.
The red, white and blue wiggler pennant sets are perfect for decoration and as an attention grabbing device. These pennants are displayed upright and measure 6' tall. The set includes six red, white and blue wiggler® pennants and six in-ground stakes that accommodate the pennants with ease. To assemble and display the pennants is simple, all pennants come with a fitted and capped pole sleeve to slide in the stake. Once the pennant is attached to the stake drive the stake in to the ground until securely placed.
The red, white and blue wiggler® pennant flag sets are made of durable plastic material. These pennants offer a great way to market your business or event. The wiggler® pennants are almost impossible to miss and are bound to catch the eye of potential customers.
For similar options see the entire collection of pennant strings, our metallic streamer sets and multi-color wiggler® pennants are ideal for use together with this wiggler® pennant. Browse through our collection of advertising flags, street banners and all of our custom products including custom pennant strings to find or design products with the purpose of attracting attention and decorating your event. You can also buy large American flags measuring 60' and more for perfect roadside displays that are guaranteed to turn heads and have your business or event noticed. For more options and information please fill out our contact us form and one of our Customer Care Representatives will reach out to you!