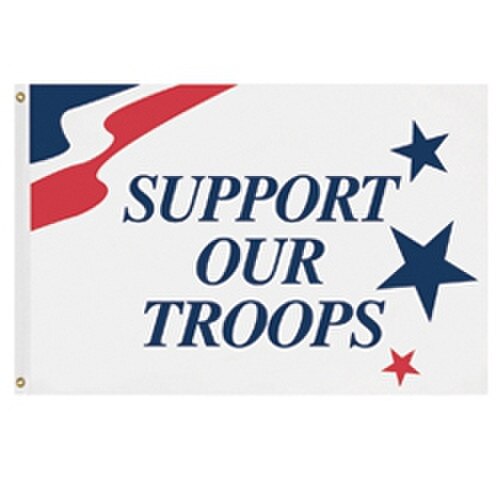 Red White & Blue Support Our Troops Flag
Details
Carrot-Top Industries 3x5' Red, White & Blue Support Our Troops flag is a spectacular way to show your support and respect for those serving, both overseas and on homeland. This nylon flag is great for everyday use or can be flown on holidays such as Independence Day, Veterans Day, Memorial Day and Armed Forces Day. See the description tab below for more details about these flags.
Supporting Our Troops is something those of us at Carrot-Top Industries make a point to do each and every day. There's no better way to show your respect and gratitude than to fly one of our Red, White & Blue Support Our Troops flags. Using the same red, white and blue as the United States flag, this flag will easily provide just as much honor and respect. With a crisp white background signifying our countries purity and innocence, red stripes and stars defining our hardiness and valor and the blue detailing the vigilance, perseverance and justice, there is no reason to not be proud of displaying this flag for your neighbors, family and friends. Made of the same nylon as our American flags, this flag will fly beautifully in the slightest of breezes. Finished with heading and grommets, you are afforded the versatility of displaying your Support Our Troops flag on your larger flagpole with snap hooks or you are able to use our flag collars for use on our Outrigger poles for your front porch display. Our traditional Beacon® Nylon United States flag can also be alternated with our Support Our Troops flag for a more contemporary display from time to time. Proudly made In the U.S.A.
Also available through Carrot-Top are our American-made Patriarch® Polyester United States flags. Great for areas with more extreme weather conditions, our Patriarch® Polyester flags are durable, long-lasting and comes complete with canvas heading and brass grommets.