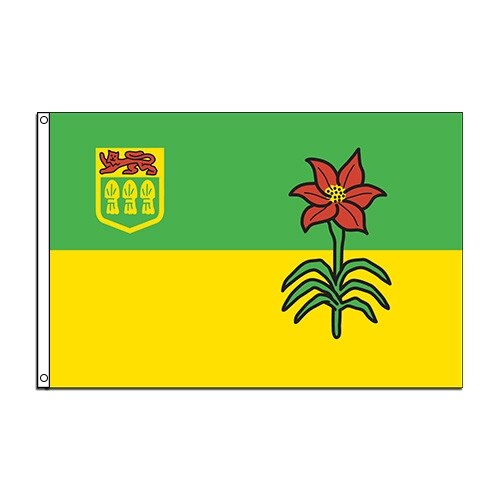 Details
Raise our Saskatchewan Nylon Flag over your home, office, business or school and show off your love for the Canadian province with great pride.
Saskatchewan Flags:
Finely tailored flags crafted with strong and durable Solarguard® Nylon
Lightweight construction allows flag to fly effortlessly in the slightest breeze
2 sizes available ( 3'x 5' and 3'x6')
Finished with a strong canvas header and solid brass grommets
Fly end features 4 rows of lock stitching to resist fraying
Designed for extended outdoor use
Saskatchewan Flags are made with the finest materials and represent the Canadian province with bold and vibrant colors, beautiful detailing and intricate stitching. The 3'x 6' flag is crafted to match the Official Canadian Standard ratio of 1:2. This size is your best option to display with an Official Canada flag. The 3' x 5' flag corresponds to industry standards and is a great option for display alone or with other provincial flags. These flags feature single reverse imaging and are fitted with as super strong canvas heading. Solid Brass grommets allow for easy attachment and removal from the flagpole. Flags feature Nyl-Glo® Nylon that is strong but lightweight, dries quickly and flies effortlessly in the slightest breeze.
Saskatchewan Flags feature the coats of arms in the upper quarter of the flag with a floral emblem, the western red lily, near the fly end. The upper portion of the flag is green and symbolizes the northern Saskatchewan forest lands. The lower half of the banner is gold and symbolizes the southern prairie wheat-fields. The flag was adopted on September 22, 1969 as the result of a province-wide competition. The winning entry was designed by Anthony Drake of Hodgeville, Saskatchewan.
Carrot-Top offers a broad range of products including Canada flags in various fabrics and sizes. Carrot-Top also provides Provincial and Territory flags of all 10 Canadian provinces and the 3 territories. Shop Carrot-Top for flags of nations around the world. Our impressive flags also include sports, novelty and custom flags. Our American flags are the finest flags available and include our Beacon® Nylon American flag and our Patriarch® Polyester American flag. For more information, please fill out our contact us form and one of our Customer Care Representatives will be in touch with you!