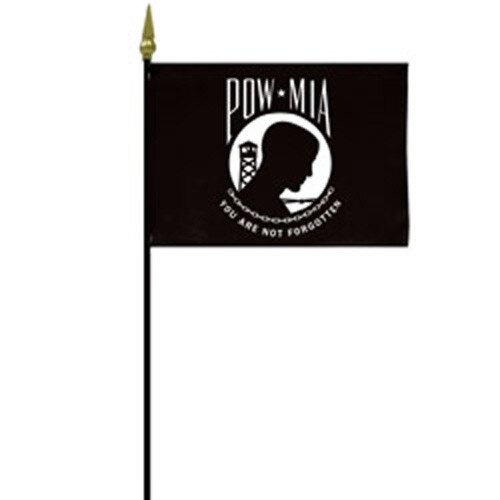 Details
HOW TO ORDER CORRECT QUANTITY: QTY 1 = 12 FLAGS
Small POW MIA flags are exact replicas of the official POW MIA flags in a smaller package. These hand held POW MIA flags are ideal for special events or gatherings. Often used as a giveaway, these small mini POW flags work perfectly in centerpieces for a special event or ceremony.
Small POW MIA flags come attached to a plastic staff and gold top. These flags are ideal for indoor use and short term outdoor use in dry weather. Quantity discounts apply. For more information see the description tab below.
Small POW MIA flags are made of durable polyester material and measure 4"x6". The flags feature sewn edges on all four sides to prevent fraying. The flags are mounted on a 10" black plastic staff for use with our mini flag bases as a desk flag or as hand held flags. The plastic staffs are finished with a gold spear top to add effect.
Small POW MIA flags are designed for indoor use and are not recommended for use outdoors. These flags can be used outdoors in dry conditions for events, rallies or celebrations.
See all of our military and memorial products including Veterans flags, Wounded warrior flags and many other honor flags. Our American flags are of the highest quality in the industry and include both outdoor, indoor and parade flags. Carrot-Top is your one stop shop for patriotic products, custom products and special event items. For more information or questions and concerns please fill out our contact us form and one of our Customer Care Representatives will be in touch with you!