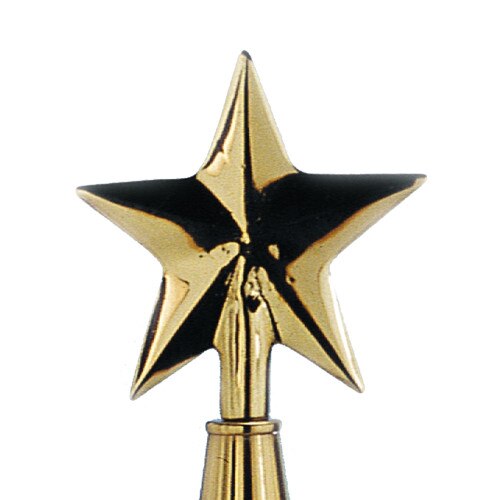 Solid Brass Guiding Star Flagpole Ornament
Details
Our Brass Guiding Star Flagpole Ornament provides a superb about of shine and elegance to the top of your Indoor or Parade Flagpole set. Made of solid brass, this Guiding Star ornament features 5 points, a removable ferrule and a set screw for attachment. The removable ferrule will allow this ornament to be used with our Indoor and Parade Pole Sets. To order this ornament, enter your desired quantity below and click the "Add to Cart" button. For more information, please see our description tab below.
The Brass Guiding Star Ornament is polished and lacquered to a perfect shine to give you years of beautiful display. For use with our Parade poles, simply unscrew the star from the bottom ferrule and screw the ornament into the top of the pre-drilled hole found on our Parade poles. If you have chosen an Indoor set, simply slide the ornament and ferrule onto the graduated end of the flagpole and secure with the provided set screw. Measuring 7" in length, this Guiding Star topper will stand out nicely and provide a gorgeous display with its 5 equally placed points.
Along with Indoor Flagpole Accessories, Carrot-Top Industries also offers Outdoor Flagpole Accessories as well. Everything from flagpole trucks to flagpole lighting options is available through our company. Outdoor flagpole ornaments are also available, many coordinating with our indoor flagpole ornaments. Flags are also an intricate part of your display, when used indoors or during a parade event. Available through Carrot-Top, is a wide array of flags ranging from United States flags to a custom flag of your own design. Many material and finishing styles are available. For more information on any items mentioned here or to inquire about additional items not shown, please fill out our contact us form and one of our Customer Care Representatives will be in touch with you!