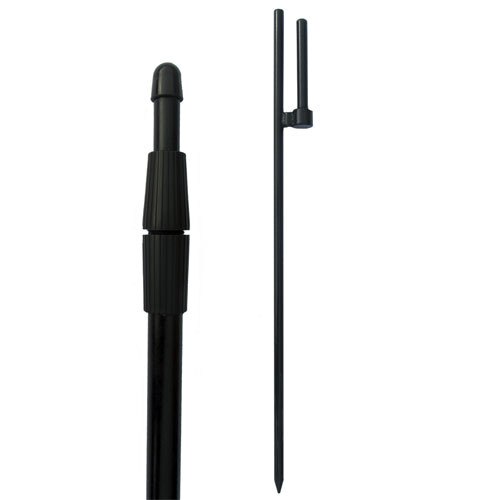 9' Super Pole Telescoping Flagpole & Rotating Spike
Details
The 9' Super Pole Telescoping Flagpole with a Rotating Spike is an ideal pole for advertising flags and comes with an attached stake that can be inserted into the ground for upright displays. These advertising flagpoles feature:
Durable, long-lasting fiberglass build
All-weather display capabilities
A telescoping design for easy transport and storage
9' size accommodates any advertising flag measuring 8' or less
ÂÂ
ÂÂ
The 9' Super Pole Telescoping Flagpole with a Rotating Spike is an all-in-one advertising flagpole that can be used with our flutter flags, feather flags or the tall message flags. The Super Pole is designed to accommodate any narrow flag that measures up to 8' in length. The Super Pole is designed in two telescoping parts and the rotating ground spike is attached to the lower portion. When collapsed, the pole measure 5' and when fully extended, the entire advertising pole measures 9'. The diameter of the lower portion of the flagpole measures 1" while the top half measures ¾". The ground spike on the Super Pole measures 23.5" in height and ½" in diameter. The pole holder, or sleeve connected to the spike, measures 4.5" in height and a ½" in diameter.
See all of our advertising flagpole options including a variety of Super Pole® flagpoles, tear drop flagpoles and more. Also browse our impressive range of advertising flags including solid color flags and message flags and our unmatched collection of American flags, featuring the exclusive Beacon® nylon American flag and the Patriarch® polyester American flag. Browse our custom products and property management items as well. For any questions you may have, please fill out our contact us form and one of our customer care representatives will reach out to you!