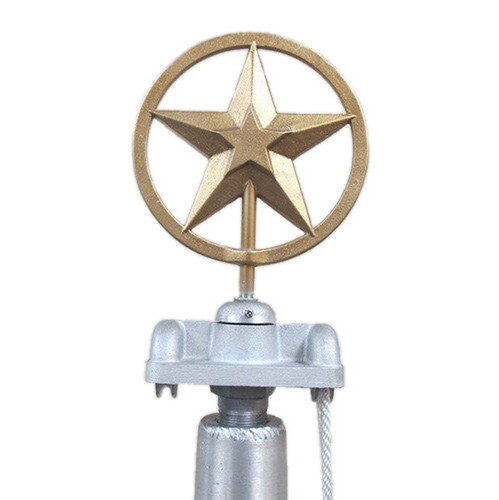 Details
The Texas Star Ornament replaces your generic top ornament with one that honors the Great state of Texas, also known as the "Lone Star State", with impressive style and a regal appearance.
Ornament is 8" in diameter
Heavy cast aluminum construction with Gold finish
Features a spindle that is 1/2" in diameter and 3" Long (screws into top of truck)
Intended for long term outdoor use
Made in the U.S.A.
Our Gold Texas Star Ornaments are unparalleled in quality, beauty and craftsmanship. These ornaments are a great addition to any flagpole and create a classic look. Ornaments are made of heavy cast aluminum and showcase a ½" spindle that screws into the top of most Carrot-Top flagpole trucks which house the rope pulley systems. These flagpole toppers resist rust and will outlast the elements of wind, rain and sun. Carrot-Top stocks a large number of ornaments for both indoor flagpole and parade sets and our outdoor flagpoles. These ornaments create unique and dynamic eye-catching displays.
Carrot-Top features the finest flags, flagpoles and flagpole accessories available. We provide other ornaments like the Aluminum Ball flagpole Ornament and Eagle Ornament. Our American flags are crafted in almost every size, style and fabric. The Beacon® Nylon American flag and the Patriarch® Polyester American flag are exclusive Carrot-Top brands noted for their craftsmanship and durability. Shop our collection of commercial and residential flagpoles and our assortment of parade and indoor flagpoles for great display options. Our indoor flagpole accessories and our outdoor flagpole parts will enhance your displays and prolong the life of your flag and flagpole. For more information about any of our products and services please fill out our contact us form and one of our customer care representatives will reach out to you!