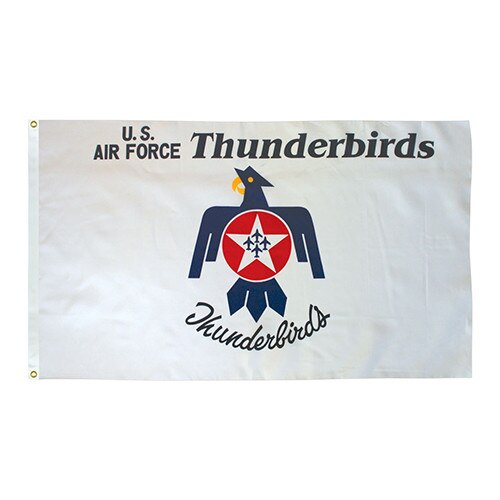 Thunderbirds Flag - 3 X 5' Endura
Details
Our Thunderbirds Flag, made of a strong and dependable polyester material that will provide you a long-lasting display for your commercial or residential flagpoles. Complete with a bright white background, bold black lettering and the long honored Thunderbirds insignia, this outdoor flag features a canvas heading and brass grommets. This flag is imported. For more information on our 3x5' Endura Thunderbirds flag, please see our description tab below.
Our Thunderbirds flag is ideal for displaying your honor and support of the United States Air Force Thunderbirds Air Demonstration Team. With the outdoor finishing complete, your Thunderbirds flag will arrive ready for installation. Featuring the blue, red and yellow Thunderbird insignia and bold black lettering which confirms that this design is that of the United States Air Force Thunderbirds, there will be no mistaking who this flag is to honor.
Formed at Kelly Field, Texas on June 13, 1917, The Thunderbirds Operational Squadron is one of the oldest squadrons in the United States Air Force. Classified as an "Operational Squadron" until February 1, 1963, it was on May 25, 1953, at Luke Air Force, Arizona that the official Air Demonstration Squadron was activated. The unit then adopted the nickname "Thunderbirds" which was derived, in part, from the strong Native American culture where Luke Air Force Base is positioned. The current home of the United States Air Force Thunderbirds is Nellis Air Force Base, Las Vegas, Nevada.
In addition to the Thunderbirds flag, Carrot-Top Industries also encompasses a range of sizes, materials and style for the United States Air Force flag as well as the other honored United States Military Branches. Also available are many POW/MIA items and Veteran items for the soldier in your life. For more information, please fill out our contact us form and one of our Customer Care Representatives will be in touch with you!