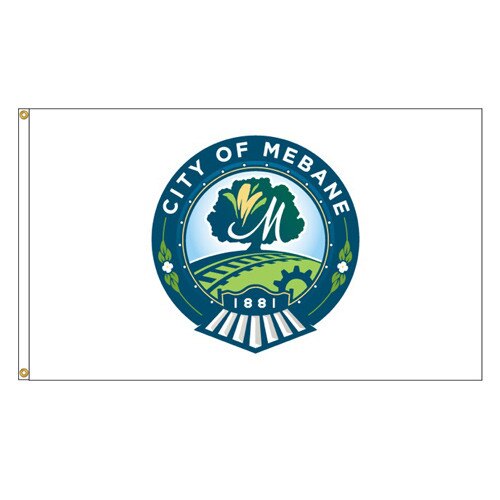 Details
Town of Mebane, NC flags are made with the finest materials and showcase rich, beautiful colors.
These flags feature:
Exceptionally strong, durable yet lightweight woven Nylon
Sturdy canvas heading and brass grommets for easy attachment and removal from most flagpoles
3'x 5' Flag size
Made in the U.S.A.
The town of Mebane flag showcases beautiful blue, green and white colors in a display that represents the industry and beauty of the town located mostly in Alamance County, North Carolina. This custom- made city flag visually reflects the Town's motto which is "Positively Charming." The town of Mebane is in the Piedmont area of North Carolina nestled three hours from the mountains of Western North Carolina and three hours from the Coastline of Eastern North Carolina. The region is one of the fastest growing areas of North Carolina. Mebane dates its origins to the beginning of the 19th century. A post office was established in the area around 1809 and the town was incorporated in 1881. Mebane today is a city in transition with a growing populations and businesses migrating to the region. For more information about Mebane or the history and design of its flag contact the City of Mebane.
Our 3' x 5' Mebane flags are best suited for regions with mild to moderate winds. These flags dray in minutes and wave effortlessly in the slightest breeze. Flags feature a single reverse image.
Carrot-Top's extensive range of products includes World flags, American flags and US State and City flags. Carrot-Top also provides NFL team flags from teams such as the Carolina Panthers and Major League Baseball Team flags like the Atlanta Braves and the St. Louis Cardinals. Support your local and favorite colleges like UNC, Wake Forest and ECU with our assortment of NCAA college sports teams. Shop our entire selection of flags, patriotic décor and custom-made items. For more information about our products and services please fill out our contact us form and one of our Customer Care Representatives will be in touch with you!