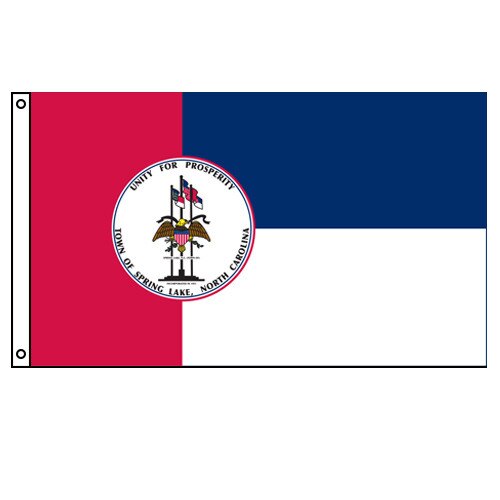 Town Of Spring Lake, Nc Flags
Details
Our Town of Spring Lake, NC flags are made with the finest materials and showcase the spirt and hospitality of one of North Carolina's greatest towns.
Resist weather's damaging effects
Crafted with finely woven nylon that seemingly sparkles in the sunlight
Solid Brass grommets for easy attachment and removal from flagpole
Intended for long term, outdoor use
Proudly crafted and tailored in the U.S.A.
Spring Lake, NC flags are beautiful banners which reflect and represent the phenomenal town located in Cumberland County, North Carolina. Our city and town flags are 3' x 5' and are finished with a strong canvas header and solid brass grommets. The town Motto is "Unity for Progress" fits the town well. Spring Lake is nestled between Pope Air Force Base and Fort Bragg and became a bedroom community for the two military institutions in the 1920's. The town's flag resembles the state flag of North Carolina with a horizontally dividing blue-white design and a vertical red stripe along the hoist. The city's emblem overlaps the three fields and is shaped as a shield with a red border. This municipal flag design is the winner of a flag drawing contest for students. Contact the Town of Spring Lake for more information about the town or history and design of the Spring Lake, NC flag. These flags are not intended for use in coastal zones or regions with high or severe winds.
Carrot-Top features a broad range of patriotic, special event and custom-made products. Our American flags are the finest flags obtainable anywhere. The Beacon® Nylon American flag and the Patriarch Polyester® American flags are noted for their longevity and beautiful displays. Shop our Custom section for superior products that may be fashioned with your logo, photo or image of choice as such as custom flags, table throws, mats and more. Carrot-Top also fashions US State and City flags, Major League Baseball team flags, NFL team flags and NCAA College Sports Team flags. Get College sports flags for UNC, East Carolina, Wake Forest and more. Carrot-Top is your one stop for flags, patriotic items and more. Please fill out our contact us form and one of our Customer Care Representatives will be in touch with you regarding any questions!