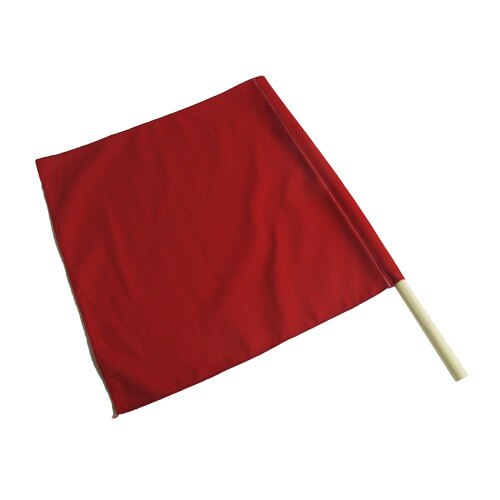 True Red Cloth Safety Flag
Details
Red Cloth Safety Flags are ideal when transporting large loads. Our safety flags are great for alerting pedestrians and fellow motorists that you are transporting a larger than normal load and that caution should be taken. The vibrant, solid red color allows for maximum visibility of those around you. Our safety flags are also great for event and traffic control use. To order a True Red Cloth Safety Flag, please enter your desired quantity below then click the "Add to Cart" button. For more information, see the description tab below.
Our Red Cloth Safety Flags measure 18"x18" and feature a solid 24" x ¾" wooden dowel to provide a range of options when using the flag. Should your intended use be a hands-free display, our silver-stamped ¾" bracket will accommodate the wooden dowel perfectly. When the safety flag is attached to a vehicle they should be placed in a prominent position for maximum exposure. Make sure the attached flag is not extending away from your vehicle, as it may be a traffic hazard to those around you as well as other buildings or structures.
In addition to safety flags, our Oversize Load and Wide Load vinyl banners make a great, long-lasting addition to your transport vehicle. While being cost-effective, these vinyl banners do not lack in quality. Along with safety banners and flags, additional safety products are available through our company. Ranging from various styles of solid and printed barrier tape to parking meter covers available in 3 styles, we are sure to have the safety products to fit your needs. Along with safety flags, Carrot-Top also provides high-quality, American made outdoor United States flags. Available in our top of the line Beacon® Nylon and Patriarch® Polyester, we are sure to have your eye-catching style of Old Glory to complete your outdoor display.