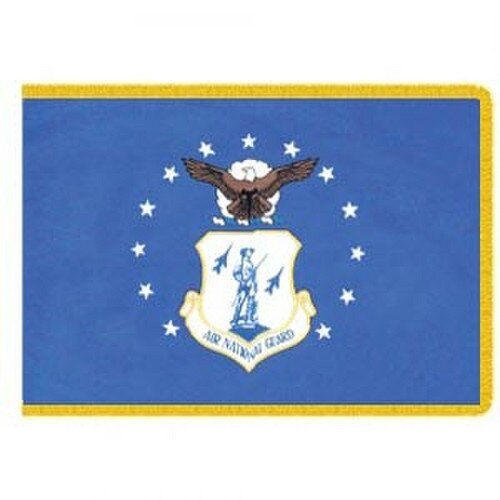 Indoor Air National Guard Flag
Details
The indoor Air National Guard flag is a perfect fit for special events, to welcome soldiers home, to celebrate the Air National Guard or Veteran events. These flags are available with a fitted gold fringe for a striking display and makes for a sleeker flag display.
The Air National Guard flags feature the government specified colors and Air National guard insignia for official use. For more information about our Air National Guard Indoor flags see the description tab below.
The Indoor Air National Guard flag features the department's seal in the center of the flag on a blue background. The seal features elements of both the National Guard and the Air Force seals and a perfect depiction of its purpose and role. The seal features a white shield with the image of the Conrad Minuteman a sculpture made in Conrad Massachusetts that became an iconic symbol for reserve forces in America. The spread eagle and cloud behind it with the encircling stars are features borrowed from the Air Force flag. The eagle and cloud stand for the Air Force's dominant presence in the skies and the cloud is a representation of new skies in the horizon.
Our nylon Air National Guard flags are ideal for long-term indoor use. They are made of industrial strength nylon flag fabric and are fitted with a lined pole sleeve. The pole sleeve allows for the flag to be used with either indoor or parade flagpoles making the indoor flag perfect for any special event. The flag measures 3'x5' and is ideally coupled with an 8' pole.
For further details, please fill out our contact us form and one of our Customer Care Representatives will be in touch with you.