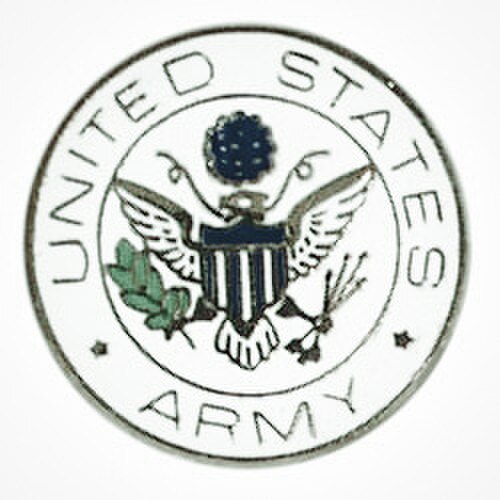 Details
Our Army pins feature the Army seal on a white enamel pin face. These pins are eloquently designed and ideal for use with any article of clothing or fabric for a professional or military event.
The high quality Army pins are great for showing your support for or for representing your service with U.S Army. For more information about the Army pins see the description tab below.
Army lapel pins feature the signature eagle of the U.S Great seal clutching arrows and the branch of an olive tree in the other. The outer ring of the Army pins is finished with the words "UNITED STATES ARMY" in silver accenting. The silver accents make the pin ideal for any event and the pin goes great with a suit or dark jacket. The Army pins come with a clutch back closure to allow for a safe and secure attaching to any fabric or article of clothing. The pins are also perfectly balanced for a straight display when pinned.
See our full complement of military and memorial products including Army flags and military flags for all other divisions of the U.S Armed Forces. Our memorial products also include POW MIA flags, proceeds of which go toward the National league of POW/MIA families, KIA flags, Official licensed flags of the Wounded Warrior project and many military grave markers to keep the spirit of fallen soldiers and veterans alive. For a patriotic display pick up an American flag with one of our flagpoles as well. For more information about our products please fill out our contact us form and one of our Customer Care Representatives will be in touch with you!