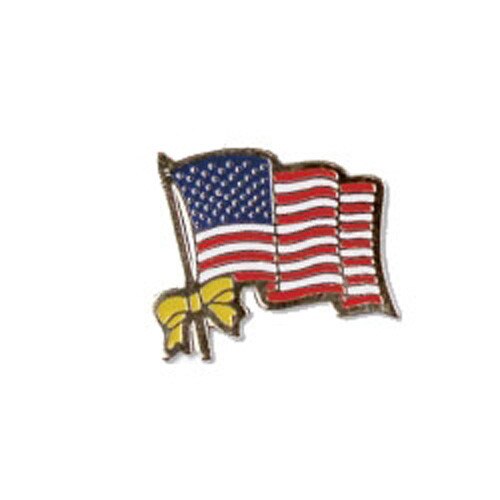 U.S. Flag With Yellow Ribbon Lapel Pin
Details
The U.S. flag with Ribbon lapel pin not only shows your American pride and patriotism but it will also show your support for our men and women in the armed forces. These beautiful pins display a waving American flag with yellow ribbon on the tied to its flagpole. These pins may be worn daily or for special events. For more information about out American flag with Ribbon Lapel Pin see the description tab below.
Our American flag with Yellow Ribbon lapel pin measures 1" and features a waving American flag with a yellow ribbon tied around its staff. The pins are perfect for patriotic celebrations and festivities such as the 4th of July, Memorial Day, Presidents' Day and Veterans Day but also work well for any occasion. The yellow ribbon the lapel pin shows support for our troops and may be worn during periods of conflict or peace. These pins are priced to make sharing your patriotism with others both easy and affordable. These pins are also great for fundraisers. Quantity discounts are available.
Carrot Top provides patriotic products of all types for every event and celebration. Our American flags are available in a variety of sizes and multiple fabrics. Our Carrot Top exclusive Patriarch® polyester American flag is one of the best all-around flags available. Our Beacon® nylon American flag , also a Carrot Top exclusive, is one of the most versatile flags available. We also provide patriotic banners, custom signs and mini American flags. Our customer service representatives have over three decades of experience and are eager to assist you. Please fill out our contact us form and one of our Customer Care Representatives will be in touch with you!