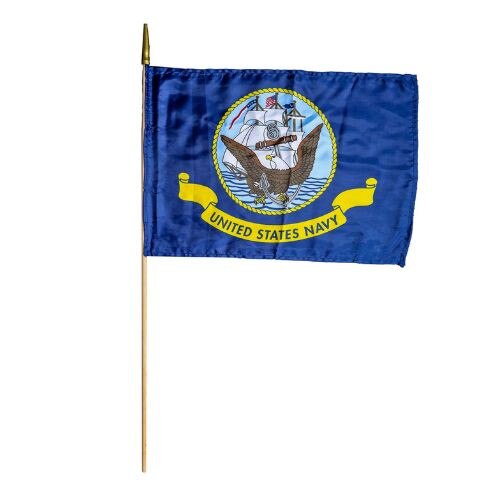 Details
The Navy cemetery flags are a perfect way to honor the sacrifice of a fallen hero. The grave marker Navy flag measure 12"x18" and are attached to a wooden dowel. The wooden dowel can be used with our deluxe grave markers as a tribute. The flags can also be a standalone display to honor a fallen Navy officer or veteran. For more information about the Navy cemetery flag refer the description tab at the bottom of this page.
The Navy cemetery flag is a printed polyester flag which is designed to be used with our specialized grave markers. Our deluxe bronze grave markers are designed to represent branches of the military individually and include a Navy grave marker. The grave marker flags can be inserted into supporting lugs in the grave marker. The dowel can then be placed in ground for an upright display with the grave marker in full view.
The flag measures 12"x18" and is a regulation mini Navy flag. The attached dowel measures 30" in height and 3/8" in diameter and is made of solid wood. The polyester material is designed to with stand all weather conditions for long periods of time and feature fade resistant printing. The flags are stitched on all sides to prevent it from fraying and allowing for long term use. For more information about our Navy Cemetery flags please fill out our contact us form and one of our experienced Customer Care Representatives will reach out to you!