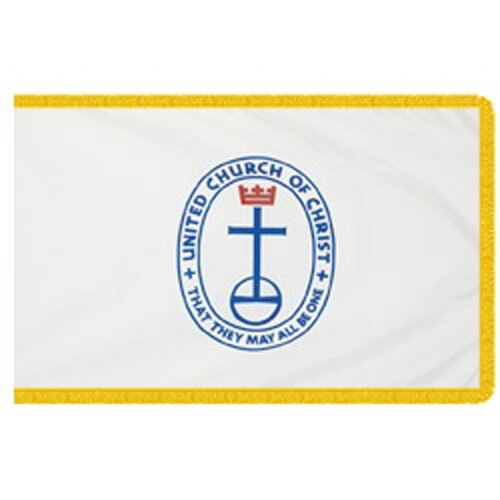 3' X 5' Indoor United Church Of Christ Flag
Details
Indoor United Church of Christ Flags creates beautiful and dynamic displays in your home, office, school, church or business. These flags are available in one size only. Carrot-Top's UCC flags have a classic look perfect for display almost anywhere and in parades. Indoor United Church of Christ flags and our Jointed Oak-finished pole give you unlimited options in displaying this symbol of faith. For more information about our Indoor Church of Christ Flags see the description tab below.
Indoor United Church of Christ flags are built with our premium 200 denier nylon. These flags feature excellent craftsmanship with exquisite lock stitching, vivid colors, a lined pole sleeve and plush gold fringe. The flag displays the logo of the United Church of Christ which consists of a crown, cross and orb within a double oval bearing the name and prayer of Jesus, "That they may all be one". Be sure to shop our complete collection of religious flags which include Outdoor United Church of Christ flags and United Church of Christ Flag sets.
Carrot-Top supplies and fashions a large number of custom products, patriotic items, and flags. Our flags collection includes American flags, international flags, US State and City flags and more. The Patriarch® Polyester American flag and the Beacon® Nylon American flagare two finest flags obtainable. Be sure to browse our custom products section for items such as flags, banners, and tents that may be customized with your company's logo, artwork or message. For more information or details about Indoor United Church of Christ please fill out our contact us form and one of our Customer Care Representatives will reach out to you!