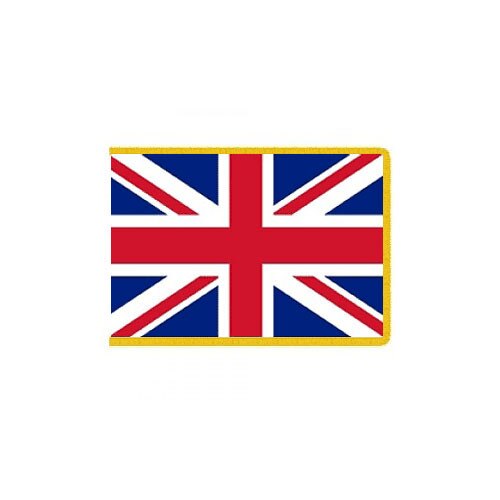 Indoor United Kingdom Flag
Details
Indoor United Kingdom flags are crafted with superior woven nylon and create dynamic parade and indoor displays. These flags showcase rich, bold vibrant colors and intricate reinforced lock stitching. Indoor flags have a lined pole sleeve along the left side and plush, gold fringe along the three remaining sides. For more information about Indoor United Kingdom flags see the description tab below.
Our Indoor United Kingdom flags create distinguished and professional displays. Whether for professional or personal use, these beautiful flags are sized 3'x5'. Indoor United Kingdom flags are best displayed with an 8' indoor or parade flagpole. Our Majestic® Telescopic Pole and our 8' Jointed Oak finished Pole are perfect options to display the flag. Majestic® Poles are adjustable and easy to transport and assemble. Three pole finishes are available: Gold, Chrome Aluminum and Wood-Grained. The Jointed Oak finished Pole offers more traditional look with a two piece hardwood pole that features brass joints.
Carrot Top not only provides flags but it also has a team of skilled graphic artists who will transpose your artwork , photos and images onto custom signs,decals, tents and table covers. Our designers can also create stylized street banners and many other items. Consider pairing your Indoor United Kingdom flag with mini United Kingdom flags or a United Kingdom flag Lapel pins. Lapel pins make great gifts to share with others. For more information about our Indoor United Kingdom flags or any Carrot Top item please fill out our contact us form today!