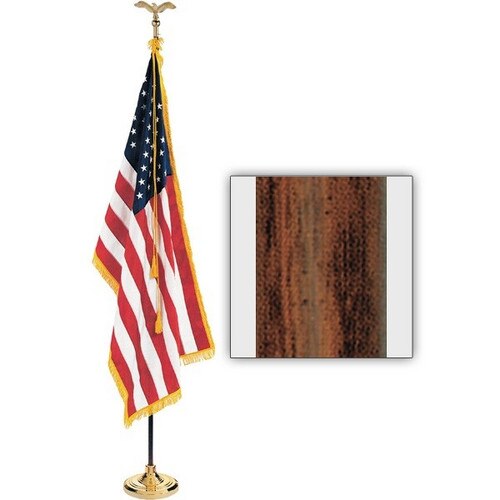 Value U.S. Flags Sets - 7'
Details
The Value U.S. flag set is the best fit for any office, home or classroom. These flag sets come with a 7' flagpole with a wood grained finish. The Value flag set also includes an 8lbs gold base to keep the stand upright, a gold cord and tassel and an ornamental golden eagle that can be placed on top of the flagpole. The indoor flag sets are perfect of areas with a ceiling clearance of about 8' and you even have the choice between two different sizes of American flags. Both flags come with a simple pole hem to slide you flagpole into. If you need instructions for assembly check out our video at the bottom of this page!
The 7' value U.S flag set is the best value indoor American flag set. This set is perfect for an area with a ceiling clearance of 7'6" or more, making it the best fit in classrooms, offices and most homes! The wood grained pole included with the flag set is made of aluminum and is extremely durable and rust resistant.
The set includes an 8lbs gold base which is the ideal base for flags sized 3'x5' and below. In addition to the basic flag and flagpole the value U.S flag set comes with an ornamental golden eagle (which matches the gold base) and a 5.5" gold cord with tassels.
The flags provided with these sets are made of durable nylon and are proven to retain color for long periods of time in indoor displays. The flags include a simple pole hem to attach the flag to the flagpole. The flags also feature embroidered stars and individually sewn-in stripes.
**This set is an elegant indoor display but is not designed for parade use! **