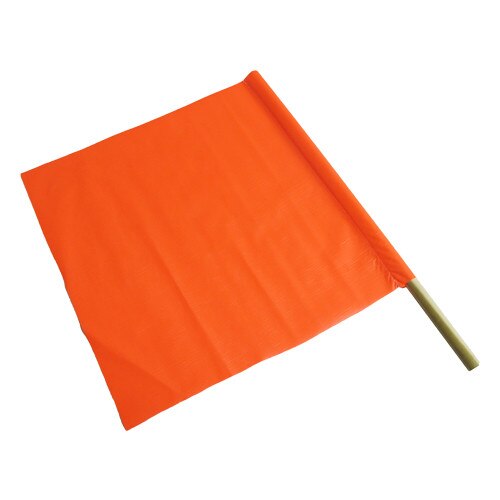 Details
This Vinyl Nylon Safety Flag is ideal for road & highways crews, emergency workers and parking lot direction. The vinyl outer layer provides an extended lifetime while keeping the easy flying nature of nylon intact. This safety flag style will arrive attached to a solid wooden dowel, which allows for temporary yet simple installation or hand-held use. To order the Vinyl Laminated Nylon Safety Flag, please enter your desired quantity below and click the "Add to Cart" button. For more information, see the description tab below.
Our Vinyl Nylon Safety Flags are available in an 18"x18" measurement and feature a solid wooden dowel for simple attachment or easy handling when directing traffic. The vinyl laminated nylon construction will allow these safety flags to be used outdoors for extended periods of time without worrying about damage or disintegration. The solid wooden dowel measuring 24" x ¾" will allow for sturdy hand-held use or with an appropriately-sized bracket (sold separately) for hands-free display. Not only is this safety flag style more cost-effective, the nylon material will afford you vibrant and attention-grabbing use for many events to come.
Being only one of the many options available through Carrot-Top, safety slags only scratch the surface of the Crowd Control and Safety products available. Ranging from barricade and fencing to barrier tape and in-ground stakes, we have everything to meet your crowd control needs. In addition to safety and crowd control, Carrot-Top Industries also offers our outdoor United States flags. Available in our Carrot-Top Exclusive Beacon® Nylon and Patriarch® Polyester, we are sure to have the size and material to fit your long-lasting flag display needs. For more information or to inquire about additional items not located on our website, please fill out our contact us form and one of our Customer Care Representatives will reach out to you promptly.