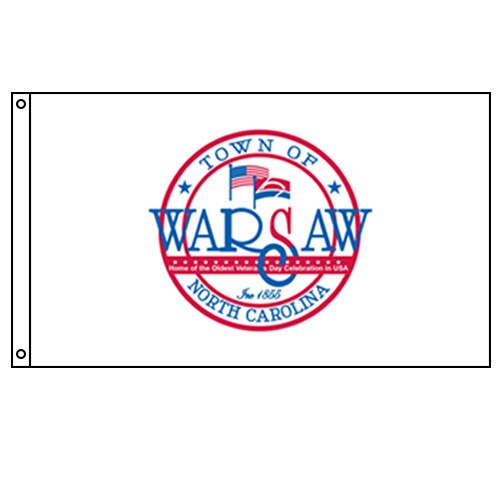 Details
Our Warsaw, NC flags are fashioned with bold red, white and blue colors that represent the city with a classic American style and look.
Beautifully tailored nylon flags with bold colors and intricate reinforced stitching
Super strong lightweight nylon that dries quickly and waves beautifully in the slightest breeze
3'x 5' size finished with a strong canvas heading and brass grommets
Warsaw, NC Flags are proudly made in the U.S.A.
Warsaw, NC flags are a visual reflection of one of our nation's most patriotic cities and towns. Home to the oldest consecutive Veteran's Day celebration in the U.S., Warsaw showcases a red, white and blue town banner with two blue five-pointed stars. This small version of Old Glory, the United States Flag, is a classic and timeless keepsake. Warsaw, NC is located in Duplin County, NC. The city's banner features the town shield in red, white and blue colors. The town flag also showcases two five-pointed stars, the town's name and the date of the town's incorporation-1855. "Home of the oldest Consecutive Veteran's Day Celebrations in the USA" appears across the middle of the field. Warsaw flags are 3'x5' and feature solid brass grommets for easy attachment to and removal from flagpoles. For more information regarding the design, symbolism and history contact the Town of Warsaw.
Carrot-Top prides itself on being an industry leader in providing "patriotic, special event and custom-made products". Our American flags are the best in the industry and are available in almost every size, shape and fabric. Carrot-Top's exclusive fabrics, the Beacon® Nylon American and Patriarch® Polyester American, are noted for their superior craftsmanship and extended longevity. Carrot-Top also fashions Major League Baseball team flags from your favorite teams as well as NFL team flags, NCAA college sports team flags and other specialty flags. Shop our custom section for flags that can showcase your company, organization or town's logo, photo or image. Our talented graphic artists are skilled in replicating and crafting customized flags that suit your corporate and personal needs. For more information about any of our products and services please fill out our contact us form and one of our Customer Care Representatives will be in touch with you!