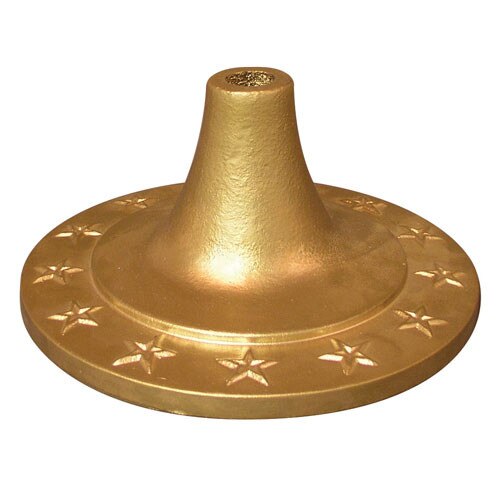 Washington Star - Cast Iron Flagpole Stand
Details
The Washington star cast iron flagpole stand is a solid iron flag base weighing 15 lbs. This heavy-weight cast iron flag base features 13 stars that stand out on the outer circle of the base. The base also features a rubber underside to protect flooring from indentation, color exchange over time and to prevent your flag display from moving around. Proudly made in the U.S.A.
The Washington star indoor cast iron base has a gilt gold painted finish to give it a traditional or classical look. The 13 stars are equally spaced out to add to the classical gilded look and are perfect to be used with a fringed traditional cotton flag and oak pole. Read the description tab below for more information about this cast iron flag base.
The Washington Star cast iron bases are a perfect match for a classic or traditional indoor flag display. The gilt gold finish gives the base an aged and antiqued look that goes great with a traditional oak pole and cotton fringed. The ring of 13 stars around the perimeter of the base is a great way to highlight the classic gold look.
This heavyweight cast iron base is built to accommodate poles with a diameter of 1¼", which is a standard measurement for most indoor flagpoles. The cast iron base weighs approximately 15 lbs and is sure to hold your indoor flag upright against a stiff draft or an accidental bump! The gilt-finished cast iron base is ideal for a professional display at your workplace, courtroom or home.
*Flagpoles and flags are not included with the purchase of a flag stand.*