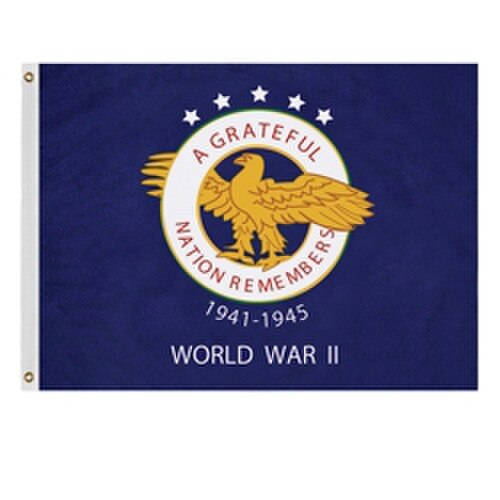 Commemorative World War Ii 3' X 4' Flag
Details
Our Commemorative World War II flags are a great way to honor and respect the Veterans who pledged their services in World War II. The World War II flags are made of solid nylon and feature a header and grommets for outdoor flagpoles. Proudly Made in the U.S.A.
For more information about the nylon Commemorative World War II flag see the description in the tab below.
Commemorative World War II flags feature a blue background with the veteran insignia in the fore ground. The insignia consists of a golden yellow eagle in the center with its wings outstretched, its right wing is clearly seen while the left wing is behind an encircling ring. The words "A GRATEFUL NATION REMEMBERS" printed on the ring with a white background. Beneath the ring the years 1941 and 1945 are printed signifying the start and end of the global war. Above the ring are five white five-pointed stars.
Our commemorative World War II flag measure 3'x4' and come fitted with a strong canvas header and brass grommets for attaching to an outdoor flagpole's halyard rope. See all of our Commemorative and honor flags. Carrot-Top has a wide range of products to support U.S military branches including our yellow ribbon products, POW MIA flags and welcome home products. Also see our American flags made with durable, tough nylon and polyester materials. For more information please fill out our contact us form and one of our Customer Care Representatives will be in touch with you!