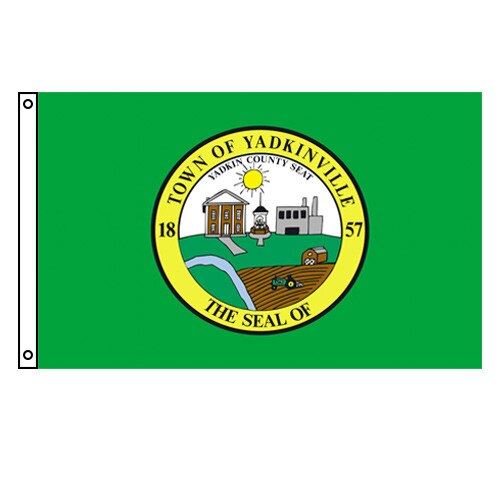 Details
The Town of Yadkinville, NC flag represents the city with a classic look that reflects the town's importance, industry and growth.
Superior, woven nylon flags that sparkles in the sunlight
Single Reverse design ( one- sided) features rich and robust colors
Fitted with strong canvas header and brass grommets, tailored for outdoor use
Convenient 3'x 5' size sure to fit most flagpoles
Our flags are crafted and tailored in the U.S. A.
Yadkinville, NC Flags are fashioned with the premium materials and detailed craftsmanship. Our 3'x 5' flags feature sleek, lightweight nylon that is sturdy and strong. These nylon town and city flags seemingly glisten in the sun and fly effortlessly in the slightest breeze. Our town banner flags are custom-made when you place your order. Flags are not intended for use in high wind environments.
Yadkinville, NC is located in the Piedmont Triad region of North Carolina and is the county seat and largest city in Yadkin County. Established in 1851, Yadkinville is a farming community with growing industrial development. Yadkinville was originally named Wilson until it was discovered that another area, Wilson, North Carolina, already had the name. The city is known locally for its "Harvest Festival" and "Grape Festival" which honors the Yadkin Valley Vineyards and other neighboring vineyards in NC and VA. For further information about the history and design of the Yadkinville, NC flag contact the Town of Yadkinville.
Carrot-Top is a distributor of patriotic, special event and custom-made products. Our impressive collection of flags includes some of the finest American flags, flags from nations from around the world, as well as sports and specialty flags. Our Major League Baseball flags and NFL team flags are available for teams like the Atlanta Braves and the Carolina Panthers. For more information about our products and services please fill out our contact us form and one of our Customer Care Representatives will be in touch with you!