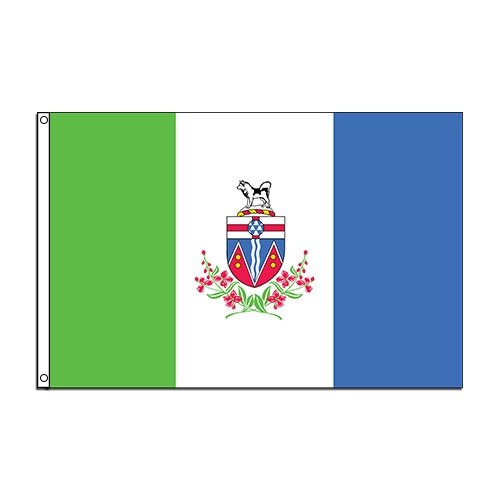 Details
Fly your Yukon flag with love and pride. Our Yukon flags reflect Coat-of- Arms and shield of the Canadian territory with superior craftsmanship and majestic beauty.
Yukon flags:
Lightweight but durable nylon material that dries in moments
Single reverse imaging
2 Available Sizes:
3'x 5' ( Industry Standard Size)
3'x 6' ( Canada Display Size)
Designed for outdoor use
Durable, yet lightweight, premium 200 Denier Solargaurd® Nylon
Dries quickly and flies beautifully in the slightest breeze
Tailored for long term, outdoor use
Yukon flags are made with the finest materials and showcase the colors and Coat of Arms of Canada's smallest and most western territory. Our nylon flags are built for extended outdoor use. These Canadian territory flags display three vertical stripes of green, white and blue and feature the coat of arms of Yukon at the center. Carrot-Top fashions only the finest nylon flags that are crafted to last.
The Yukon flag is green, white and blue with the territory's Coat of Arms at its center. The official flag of Yukon was created in the 1960s after it was selected from a territory-wide design competition. The winning design was adopted on March 1, 1968. The Color Green represents the territory's forests while white symbolizes the snow and blue signifies Yukon's lakes and rivers. The Coat of Arms of Yukon centers the territorial banner. The crest of the Coat of Arms showcases a Malamute sled dog, common work dogs in the province, standing on a mound of snow. The shield contains a cross of St. George for England with a roundel with a pattern of fur. Two wavy lines in the middle of the shield represent Yukon's rivers on a blue background. Two red triangles with gold circles symbolize Yukon's mountains and mineral resources.
For more about our products or for questions or concerns, please fill out our contact us form and one of our Customer Care Representatives will be in touch with you!