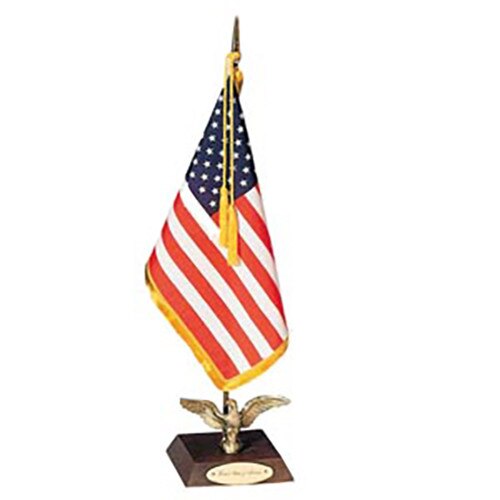 Ambassador Mini 8" X 12" U.S. Flag Set Base
Details
The Polyester Ambassador mini U.S flag set is perfect for display in your home, or on your office desk. This set comes individually packaged making it ideal for a giveaway or raffle item. Included with your purchase is an 8x12" fringed American flag mounted on an 18" walnut finish staff.
The fringed flag is vibrant and the gold fringe compliments the colors of Old glory for a striking display. Gold fringed flags are often used in special events due to their stand-out looks. The set also includes a gold cord and tassel and an ornamental spearhead on top of the staff. The set is capped off with an antiqued gold plated eagle figurine and a walnut finish base with a plaque that reads "United States of America."
The Mini American flag set is a great ornamental display of patriotism, fit for any location or setting. This item is designed for indoor use only. Our Ambassador mini flag set features a gold fringed flag that is commonly used in parades or formal events by the military.
The Ambassador mini flag set features a mini flag that is attached to an 18" walnut finished flag staff and a gold ornamental spearhead on top. This mini flag set also features an antiqued gold plated 5" eagle with its wings spread. The whole set is finished off with a gold cord and tassel attached to the top of the flag staff. The whole set is placed on a walnut finished 5x5" base that holds the whole assembly in place and allows for an upright display.