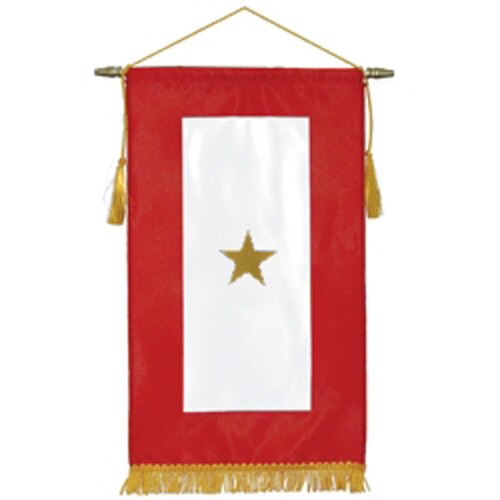 Details
Since WWI, a Gold Star Banner has been the emblem of families who lost loved ones in military service. Carrot-Top's Gold Star service banner is a traditional design for those families:
Denotes a family member who has made the ultimate sacrifice
Military service banner is 8 ½" x 14"
Heavy satin fabric
Digitally printed with single reverse image
Gold fringe along bottom, with overlock stitched edges
Mounted on gilded gold bar, with gold spearheads at the ends
18" gold tassel attached to bar for easy hanging

Proudly Made in U.S.A.
Why Buy a Gold Star Banner?
In 1917, an Ohio army captain devised the Blue Star military service banner to denote sons or parents who were serving in the military. It was then decided that a gold star on a white background and red rectangular border would represent a soldier killed in action, with the color gold symbolizing the value of each life lost. The quiet dignity of Gold Star service banners has remained a tradition through several generations.
Carrot-Top's Gold Star Banner is digitally printed on heavy satin fabric and is detailed with a gold fringe bottom, a gilded bar with spearheads and an 18" tassel for hanging. It's suitable for display on a wall or window and is proudly made in the U.S.A.
Questions? Please fill out our contact us form and one of our Customer Care Representatives will be in touch with you!