Custom Indoor & Outdoor Flags
As top custom flag maker in the industry, Carrot-Top Industries has been helping businesses and organizations with their custom flag needs for over 30 years! We stock various custom flags in multiple colors, shapes, and sizes. Choose a custom flag combination to complement your brand, school, or cause. If you have any questions, please contact us using our chat feature button at the end of the screen or send us a message using our contact us form.
THE COMPLETE GUIDE TO BUYING CUSTOM FLAGS FOR BUSINESSES, GOVERNMENT ENTITIES OR SCHOOLS
The power of a flag cannot be underestimated. Like the USA flag, flags with your business, government or school branding can accomplish many things. They can inspire pride, unify colleagues, attract customers, energize a student body and more. Along with being effective tools that move your organization forward, custom flags are generally affordable and easy to maintain. As long as you choose the right flag type, fabric and size, your organization can reap tangible benefits from custom flags for years.
Custom Flags For Businesses
If you're a business owner or leader, it's easy to assume that digital marketing tactics are more successful than traditional marketing in helping you promote your business. But traditional advertising methods cannot be underestimated.

In fact, recent CMO Survey data found that B2C companies are predicting their largest increase in traditional advertising spending. Additionally, in the retail industry in 2021, businesses with brick-and-mortar storefronts grew faster than internet-based stores.

What does all of this mean?

That there is an opportunity for you to capitalize on the effectiveness of traditional marketing tactics. And one of the most effective and economical tactics is flying custom flags with your company logo, tagline, colors, etc.
Five Benefits of Flying Custom Flags for Your Business
The biggest benefit of nylon is that it's a durable material that can withstand moderate wind and weather conditions, while maintaining color richness and a soft feel. For example, if you'd like to hang a large flag above the outdoor entrance to your office building in an area with low to moderate wind, we recommend nylon. As long as the flag is well made, with Nyl-Glo nylon in particular, it will hold up on days with slightly harsher weather while still blowing beautifully in the wind and looking great close-up to passersby. If you're not as interested in a flag waving in the breeze and want to express your patriotism indoors, nylon is also a great choice. An indoor flag would look wonderful on a standalone flagpole in a meeting room or hanging on a wall in a waiting room.
Round-the-clock brand awareness. Custom flags for your business can be flown 24/7, not just on business days. That means your brand gets maximum exposure. Billboards or print ads that require you to pay for a specific length of advertising time. But flying custom flags gives you the freedom to advertise your business for however long you like. In short, custom flags help you promote your brand around the clock and to as many people as possible.
Set-it-and-forget-it maintenance. Custom flags are one of the easiest physical assets to maintain. They are easy to set up, monitor and take down. All you need to do is inspect them regularly for rips or tears that could turn into bigger problems later, and repair or replace them as needed. The frequency of your maintenance will depend on several factors. For example, for an outdoor flag flown in an area with harsher weather conditions, you'll want to inspect it at least every month. For custom flags displayed primarily indoors, inspecting your flags every three months is typically adequate.
Perfect for all types of environments. Custom flags are multi-purpose. You can fly them not only in front of your brick-and-mortar store, but also in a variety of other environments. It's easy to display your business flags in parades, community events, conferences and trade shows, company parties and more. Your company's presence at these events will boost your brand awareness and inspire positive feelings about your business.
Versatile.The beauty of custom flags is that they never go out of style and don't need to be updated often. When you design them with your company branding, you can display them just about anywhere in your business or any event. If you change your branding, you can have updated custom flags made based on your original design templates. You can even keep your flags with the older branding and display them at company anniversary parties.
Affordable. Finally, custom flags are one of the most affordable physical assets in which you can invest. Once you purchase your custom flags, you rarely need to replace or update them. Additionally, the flags themselves are typically cheaper than other marketing assets that have ongoing fees, such as television commercials, print ads and billboards. Furthermore, you maximize your investment in custom flags with the round-the-clock and multipurpose brand exposure they offer.
For decades, Carrot-Top has created personalized flags for businesses of all industries and sizes. You can view our custom flag options for businesses here.
Custom Flags For Government Entities
Few things are better at building pride in a department, city, state or nation than a beautiful flag. For government entities that need to create cohesion among workers and constituents, custom departmental flags can help move everyone forward.
Since 1980, Carrot-Top has created American flags and custom flags for government teams in towns, cities, individual states and the nation. We've had the pleasure of creating official flags for larger towns and cities that have never had one before and fly proudly today.
Additional reasons why your government entity might need a custom flag include:
Establish or refresh your area's unique character with a unifying symbol
Normally honor your local police or fire department
Create buzz in a town or city for a big upcoming event
Inspire teamwork among coworkers
Add a formal touch to ceremonies and presentations
Whatever end-goal you have, whether it's listed above or it's something else, Carrot-Top will create a beautiful flag that will help you accomplish it.
We have all kinds of custom flag materials and sizes that can work for your government's needs. You can view our entire selection, examples and design ideas, here.
Custom Flags For Schools and Educational Institutions
What's the best addition to school pep rallies, games and assemblies? Flags emblazoned with your school's name, colors and mascot. Imagine any event, big or small, formal or informal, without your school's flag there. It would be pretty hard to pump up a crowd, inspire unity among students and faculty or cultivate a reverent atmosphere. In other words, school flags are essential to building school spirit and pride.
Carrot-Top Industries has more than 30 years of experience making custom flags for all types of educational institutions. Whatever mood you're trying to create at your next school event or with your school decor, Carrot-Top can make flags that capture your vision.
Below are our most popular types of custom school flags that would make a great addition to your campus:
Classroom or gym flags:Hang your school flag in your classroom, lecture hall, gymnasium or meeting rooms. No space is too big or too small to display your school flag. While our custom rectangle flags 3x5 is our most popular size, we offer virtually any flag size to accommodate your needs.
Cheer runner flags: There's nothing like the cheerleading team running with the school flag in front of fans during a game. Our cheer runner flags are perfect for rousing a crowd at games, pep rallies, assemblies and more.
Breakaway flag banners:What's more intimidating to the competition than your team charging through a 10'x12' banner? Made with Velcro straps and PVC pipes, these banners make it easy for your school's players and cheerleaders to get the crowd going at every game.
Flag banners:Custom banner flags are perfect any school event, academic or social, serious or fun. Raise awareness for your department's events, pay homage to alumni athletic stats or decorate popular campus spots with our high-quality banners.
Feather, flutter, blade and teardrop flags: GTall and eye-catching, feather, flutter and blade flags are perfect for short-term advertising. Set them for easy-to-spot tailgate events, campus tours, open houses and more.
Pennant flags:A traditional symbol of school pride, pennant flags are perfect for schools to display indoors or outdoors. Our personalized pennants make great gifts or giveaways for students to display in their dorms or wave during campus events.

Carrot-Top's tough nylon pennants are available in four sizes. They can be printed with single or double-sided designs.

Guidon flags: Also known as swallowtail flags, guidon flags are V-shaped. The notch cut into the fly end gives these flags a unique look that makes your department, organization or group really stand out in a crowd. Display your guidon flag proudly outside or frame and hang it in a prominent position in a hallway or office.
Types of Custom Flags and Proper Commercial Use Guidelines
When it comes to creating custom flags for your organization, the possibilities are truly endless. While you can create any type of flag you want, there are many popular options that any business, government entity or school should explore.
Single- or Double-Sided Custom Flags: Whatever you want your flag to look like, our single or double-sided options can capture it. Available in Carrot-Top's Beacon® premium nylon material, our single- or double-sided flags will feature your unique colors, images and messaging on one or both sides. Printed with UV-resistant ink on fray- and wrinkle-resistant nylon, you'll never have to worry about fading, bleaching or tears.
Not sure whether you should purchase single- or double-sided custom flags? Contact our team of flag specialists and professional designers. They'll talk with you in depth about your specific flag needs and recommend the right styles and sizes.
Digitally printed designs to capture your organization's branding in full effect
200 denier nylon
Covered under Carrot-Top's 6-month guarantee
Single-reverse finished with cotton header and brass grommets
Lightweight, dries quickly flutters easily
Custom Guidon Flags and Double-Sided Guidon Flags: If you're looking to make your organization really stand out, custom guidon, or V-shaped flags, are the way to do it. Guidon flags create a unique and important look while blowing in the breeze. They also look beautiful framed and hung in a prominent space.
Mirrored image and option for double-sided printing available
200 denier tough nylon
Reinforced stitching at top, bottom and V-shape
Double stitching on sleeve
Made in U.S.A.
Fade- and fray-resistant
Guidon flag sizes:
2' x 3'
3' x 4'
3' x 5'
4' x 6'
5' x 8'
20" x 27.27"
Custom Pennant Flags: Build team spirit in your office or school with our personalized nylon pennant flags. Get your exact branding printed on one or both sides of your pennant to create a traditional, spirited look.
200 denier nylon
Single-reverse imaging and option for printing on back side of flag available
Made in the USA
Fade- and fray-resistant
Backed by a team of America-based customer service representatives
Covered under the Carrot-Top warranty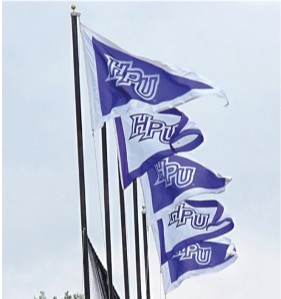 Pennant flag sizes:
2' x 3'
3' x 4'
3' x 5'
4' x 6'
5' x 8'
Custom Tall Flags: Make your organization or event stand out with these spectacularly vertical flags. Made for outdoor use, set up these tall flags near your entrance, on the side of the road, or lining the walkway up to your event.
Tough, UV-resistant nylon
Digitally printed design to capture your image in full detail
Single reverse printing
200 denier nylon made for outdoors
Reinforced grommet at bottom of flagpoles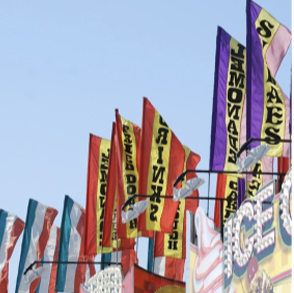 Tall Flag sizes:
Custom Feather Flags: Catch the eye of passers-by and leave a lasting impression with our tall feather flags. Easy to set up, move and take down, these feather flags are perfect for advertising your organization in all kinds of outdoor environments
One of the tallest custom advertising
flags available Made with superior 200 denier nylon
Dye sublimation process creates digitally printed design in full color
U.S.A. Made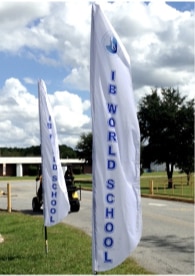 Feather flag sizes:
2' x 10'
2' x 12'
2' x 8'
Custom Flags Manufacturing Process
If you're wondering how custom flags are made, including the popular custom flags 3x5, you're in the right place. Custom flags are made using several types of printing and design processes. We're going to discuss the common ones, including the ones that Carrot-Top Industries uses to deliver stellar, high print quality flags to our customers.
Digitally Printed Custom Flags: This is the most popular flag printing process we use at Carrot-Top to make custom flags. A newer process than traditional printing methods, digital printing uses an inkjet printer with inks designed for flag fabrics, such as nylon. The printer can print virtually any design in vibrant colors and capture even small details.
Once the design is programmed into the printer, it can be printed onto the fabric itself, or onto paper that is then transferred onto the fabric. Depending on the customer's wishes, flags can be printed single- or double-sided and on just about any flag size.
Screen Printed Custom Flags: With the screen printing process, various ink colors are layered onto fabric via a screen. The screen technology enables colors to appear bright and easy to see. It's important to note that flags that look best via screen printing are ones that feature designs or decals with only a few colors.
While digital printing and more efficient flag printing processes are typically preferred over screen printing, the screen printing process is still used today, especially for large quantities of flags with the same, simple design template.
Custom Applique Flags: Applique flags have been made with an applique or sewing process. This method creates an impressive final product that looks slightly quilted. Design element or decals are made with a separate piece of nylon fabric.
Because each component of the flag design is created by hand, applique flags are typically a bit more expensive than printed ones. Carrot-Top offers applique and embroidered flags at special pricing.
Custom Embroidered Flags: Embroidered flags are made with a variety of thread colors to create a design or lettering on a single piece of fabric. Similar to the way applique flags are made, the embroidery process can achieve much more detailed and textured designs.
Embroidered flags are perfect for display indoors in an area where viewers can examine the design and lettering up close and appreciate all of the detailed work.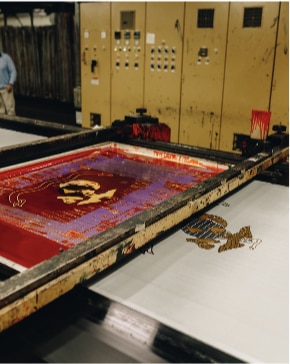 To get a price quote for your own custom flag, use our Contact Us page or call 800-628-3524. Please note that price breaks on custom flags only apply to quantities of the same design.
Popular Custom Flag Material and Size
If you're not sure what flag material or size is right for your needs, we recommend that you follow our most popular choices. Carrot-Top's custom 3x5 nylon flags are perfect for most school, government and business needs.
Benefits of Nylon Flags
What's nylon's main benefit? It's one of the highest quality materials that can do two important things. First, it can withstand moderate wind, sun and weather conditions. Second, while being fairly heavy duty, it also maintains its color richness and a soft feel, unlike polyester flags, which are a bit rougher to the touch.
For example, if you'd like to hang a custom flag above the entrance to your office building in an area with low to moderate wind, nylon is the ideal fabric to use. As long as the flag is well made, with Carrot-Top's preferred choice of Nyl-Glo nylon, it will be sturdy in harsher weather while still blowing beautifully and preserving its aesthetic appeal.
What if you prefer to express your company, school or office pride indoors? Nylon is also the ideal fabric. An indoor flag looks wonderful on a standalone flagpole in a conference room, hanging on an office wall or displayed in a lecture hall.
Benefits of Custom Flags 3x5
While every flag size has its unique benefits and uses, we've found that the 3x5 size is perfect for most flag needs.
Here are just a few ways you can use custom flags 3x5 at your business, government organization or school include:
Mount them on slow-moving school rally or government parade vehicles
Decorate common office areas
Line the path up to your building for your next open house or event
Frame and hang in a prominent place
Display on standalone flagpoles for school or government ceremonies
How to Design Your Own Custom Flags
At Carrot-Top, we strive to make it as simple as possible for you to design your own custom flags. Below are our answers to several FAQs we hear from customers about how our process works.
So far, you've made two important decisions: whether you'll be flying indoors or outdoor American flags, and whether you'll be purchasing a flag made of nylon or polyester. Now it's time to decide what size flag and/or flagpole best suits your needs. This part of choosing an American flag for sale can be intimidating, which we understand. Stay with us. We use our 40+ years of experience in the American flag industry to break down everything you need to know.
Q: How do I submit my artwork?
Oversized products, such as larger flagpoles, are usually shipped via motor freight, which take about 1-2 weeks for delivery. A delivery date of 3 weeks is possible depending on the product size and the shipping carrier.


A: Artwork files can be uploaded through the Carrot-Top website at time you place your order. You may also contact us 800-628-3524 to purchase via one of our Sales Representatives. They will send you an email link to upload your images.
Q: What type of file do you need to print?

A: We accept all of the following types of files for your artwork:
.AI
.DOC
.DOCX
.GIF
.JPG
.PDF
.PNG
.PPT
.PSD
.TIF
Q: Can I see a proof before it's printed?

A: Yes. After you add to cart, go through the checkout process and submit your artwork, you will receive an email. The email will be a proof to confirm your logo, colors and text are correct before production of your product. You may also receive a request for any additional information needed.
Q: How long will it take for me to receive my custom flag?

A: Custom products are billed at time of purchase, are non-refundable and cannot be returned. When we receive an order, our team goes begins work to finalize art, set up and schedule equipment.
As a result, once an order enters production, we are unable to cancel or make any changes to your order. Please allow 6-8 weeks after final design approval for production and delivery of this custom product. Shipping confirmation and tracking information will be sent once your order has been created and ready for shipment.
Helpful Resources
Select up to 4 items to compare.
Select up to 4 items to compare.