ABOUT US
OUR MISSION
Our mission is to honor the American spirit by providing American-made products that build and promote patriotic, corporate, and individual pride. We aim to help our customers enhance permanent facilities and the unique events that bring their communities together.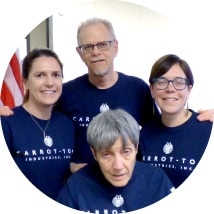 In 1980, Carrot-Top Founder Dwight Morris stepped into the flag industry with a passion to build a company dedicated to serving its customers' needs while providing the highest quality products.
He established Carrot-Top as a mail-order company based out of his family's home in Oak Park, Illinois. For the first seven years, Dwight grew the company's reputation and filled every position needed to see it flourish. In 1987, the Morris family relocated to North Carolina to set up their growing business in Hillsborough and within a year, hired its first employee who is still working with the company as our Quality Assurance and Product Specialist. The company continues to thrive due to the hard work, values and passion shared by one man and all of his employees.
In August 2019, the company was transitioned to the next generation when Dwight's daughter, Liz Morris, became our President and CEO. Dwight continues on at Carrot-Top as Advisor to the CEO. Carrot-Top Industries now enters its 40th year of being a trusted industry leader providing institutions and businesses with patriotic and customized solutions while bringing communities together. Carrot-Top has gained expertise in the industry through listening to what its customers' unique needs are and providing them with specific solutions. "Looking towards our future, Carrot-Top will continue to focus on solution-based products that bring people together while operating collaboratively so we can consistently meet or exceed our goals," said Liz Morris, CEO and President. "Without the strong foundation and values established by my father, growth and ongoing success would not be attainable."
As Carrot-Top looks towards the future, it plans to continue providing organizations across America with high-quality products that help display a message or pride through patriotic and customized solutions. Carrot-Top knows that 40 years in business would not have happened without all of its loyal customers. Our Customer Care Professionals believe in making a difference by engaging with their customers, sharing their expertise and empowering customers to make the best product choices for their needs. We believe in doing right by the customer, and we look forward to serving as your trusted partner in the industry for many years to come.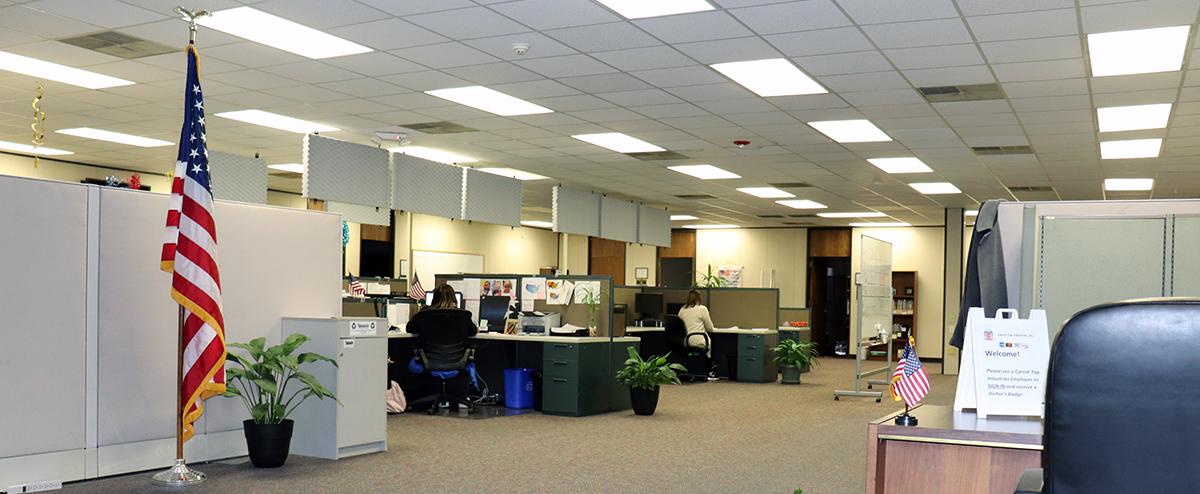 Our positive culture and work environment empower our employees to provide the best service possible for every customer.
Carrot-Top Industries is still an independent, family-owned business proudly operating out of a 25,000 square-foot facility in Hillsborough, N.C. We employ around 30 team members comprised of customer service professionals, web merchandisers, warehouse associates, a finance department and a marketing team to support the e-commerce website and production of our custom flags and banners.

We strive to be the best flag company in the industry by providing only the best quality American flags to our customers.
We only partner with reputable American flag manufacturers to create our exclusive line of Beacon® and Patriarch® U.S. and state flags. We pride ourselves in being your go-to flag store by offering any size and style of flag imaginable. At Carrot-Top, we have the flag you need, or we will create it for you!

Carrot-Top is a customer-first organization. We promise to build strong relationships by catering to customers' needs rather than to our bottom line.
We promise to provide only American-made U.S. flags and the best flag guarantee in the industry. Over the years, we have built solid relationships with our manufacturing partners to deliver only the highest quality flags and banners to our clients. Our exclusive line of Beacon® and Patriarch® flags are backed by a 6-month guarantee against defects, fading, and tearing — the best in the flag industry.

VISIT US
328 Elizabeth Brady Rd.
Hillsborough, NC 27278

EMAIL US