Get the crowd in the stands fired up, promote an upcoming event or build school pride with Custom School Flags from Carrot-Top! Regardless of what you have in mind, we've got you covered with over 35 years of experience and expertise, a top-flight graphics/creative team and outstanding customer service.

Here are a few of the custom school flags that we think would be a great addition to your campus:
Whether you need classroom-sized school flags or gym-size flags, you've come to the right place! We offer custom school flags in a variety of sizes and fabrics, with various custom-printing methods that can render your design in amazing detail.
Need design ideas? We've included design codes on many of our examples for easy reference.

ED1

ED2

ED3

ED4

ED5

ED6

ED7

ED8

ED9

ED10
Build some excitement for the team with Cheer Runner Flags! These unique team flags are perfect for pep rallies, assemblies, games and more. Imagine seeing your team's mascot or the image of your choice on a sturdy nylon flag, carried by cheerleaders or the team. Cheer Runner Flags are available in five sizes, from 3' x 5' up to a big 8' x 12' flag.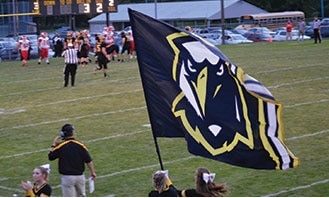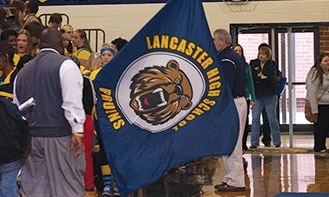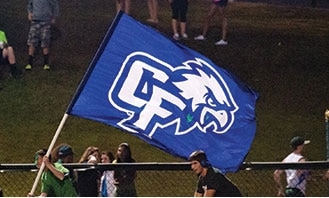 Add a bit of showmanship and intimidate the competition with breakaway banners! These big 10' x 12' banners will get the crowd going at games or pep rallies and are held together with Velcro® straps in the center so that the team can come charging through. Breakaway Banners (also known as run-through banners) come with a pair of PVC pipes and can be printed with your choice of mascot, school logo or other design.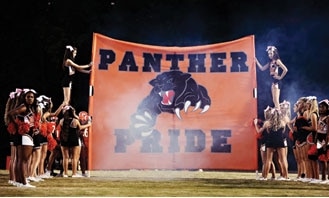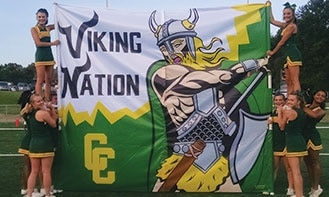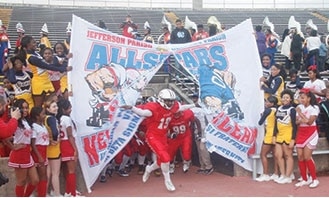 Perfect for building awareness for an upcoming event or just marking achievements, banners are created using digital technology that can render logos, images and even photos in amazing detail, right down to subtleties in shading and gradients.

ED21

ED22

ED23

ED24

ED25

ED26
Feather, Flutter and Blade Flags
Feather, flutter and blade flags are popular for advertising and marketing; they're tall and eye-catching, fly easily in a light wind and are perfect for short-term use (i.e. tailgate events or festivals) or longer-term display. Available in multiple sizes and colors, feather, flutter and blade flags make great campus markers or welcome signs.

Feather
ED27

Feather
ED28

Blade
ED29

Blade
ED30

Flutter
ED31

Flutter
ED32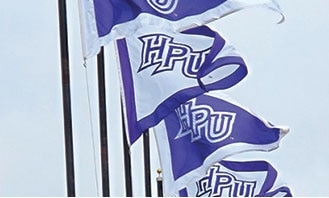 The familiar triangular pennant shape is perfect for schools and is available in four sizes. These tough nylon flags can be printed with your design, with the only limit being your imagination! Suitable for indoor or outdoor use, pennants make great team flags, are digitally printed and available in single or double-sided printing.


ED33

ED34

ED35

ED36

ED37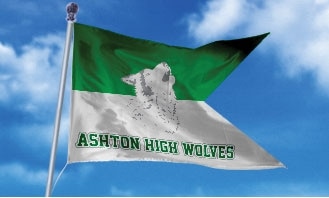 Sometimes referred to as "swallowtail flags," guidon flags feature a V-shaped notch cut into the flag's fly end. These military-style flags are popular with ROTC, are great for marking organizations and groups, and are available in double-sided construction.


ED38

ED39

ED40

ED41

ED42
Not sure what design you'd like?

Talk to our graphic design department, they can help walk you through the process or lay out artwork that's right for you. We even offer a selection of stock logos that might work as team mascot art! And of course, all Carrot-Top's Custom Flag products for schools are available at significant price breaks for quantity purchases.

Let us help with your school flag needs!