Custom Appliquéd Flags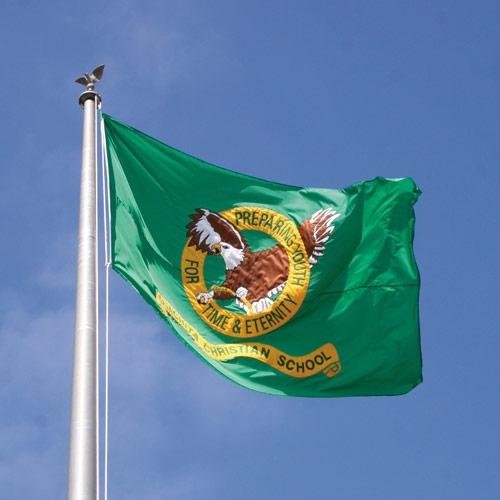 Compared to other types of custom-made flags, appliquéd flags are made using a unique process. The term appliqué is derived from the French verb appliquer, which literally means to "put on" or to "apply." Appliquéd flags are produced by taking a fabric cutout of your design and sewing it onto the flag itself.
For graduations, business events and other special occasions, our appliqued flags have been a favorite for years. Simply put, appliquéd decorative flags are a great, unique way to display your logo or mark a special event.
Carrot-Top's Appliquéd Flags are tough 200 denier nylon and are available in standard sizes that include: 2' x 3', 3' x 5', 4' x 6', 5' x 8', 6' x 10' and 8' x 12'. The flags feature a canvas header and brass grommets at the hoist end (custom finishing available upon request), with two rows of stitching at the top and bottom and four rows of stitching at the fly end. Flags that are 8' x 12' or larger will have four rows of stitching on three sides, with six rows of stitching at the fly end and may also have a seam running through the flag.
You can choose from single-reverse or double-sided construction. Double-sided flags will read correctly on both sides. Double-sided flags feature two layers of nylon material and a liner between them to prevent the design from showing through. As a result, double-sided flags are more than twice as heavy and will require more wind to fly.
Interested in a Custom Appliquéd flag? Call Carrot-Top at 800-628-3524 and one of our Customer Care Professionals will get you started. Prices will vary according to the size of the flag and the complexity of the logo. Please know that due to limitations in the production process, your logo or image can only be printed in certain colors and cannot have color gradients or shading.
Get a Custom Quote Today or call us at 800-628-3524 for a price quote.
Artwork Requirements for Custom Appliquéd Flags
We use vector artwork files to print Custom Appliquéd Flags. Using vector artwork ensures your image will print clearly, not pixelated. Vector artwork, created in Illustrator, is comprised of outlines, not pixels. All fonts used within the vector file must be converted to outlines to avoid font substitution if we don't have the font on our computers. You can always send us your font files, and we can convert your fonts to outlines.
How Custom Appliquéd Flags Are Made
The production process starts with your digital artwork in a vector format being plotted onto paper. The paper cutout of your design is then positioned over the colored fabric of your choice, pinned into place and transferred as a stencil to show through the fabric below it. The cloth pattern is then sewn onto the fabric. Once completely sewn on, the loose edges of the pattern are cut off for a clean appearance and the flag is hemmed to your specifications and finished with a header and grommets or pole sleeve.
File Formats We Accept for Custom Appliquéd Flags
Our graphic artists can work with any type of file or sample (jpg, tif, png, gif, doc, docx, pdf, ai, eps, tif, psd, ppt or printout of your artwork) to create a vector file for your Custom Appliquéd Flag. If you provide a photo of your artwork, a resolution of 300 dpi or higher will give you the best results. If you provide a photo of your artwork, a resolution of 300 dpi or higher will give you the best results.
Custom Appliquéd Flag Artwork Charge
If we create a vector file of your artwork, there are two types of fees. The standard fee will be a one-time $40 artwork creation charge. If the project is more in depth and complicated, there may be additional artwork charges. If you have questions about which fee will be applied, we would be happy to answer this for you. Once we have created your vector artwork, we will give you the vector file so you can use it on all of your marketing materials to create consistent branding for your institution or business. As an added bonus, we will retain your vector artwork on file to make it easy for you to place future custom product orders with Carrot-Top Industries. Call 800-628-3524 for more information.
Examples of custom appliqued flags from customers: