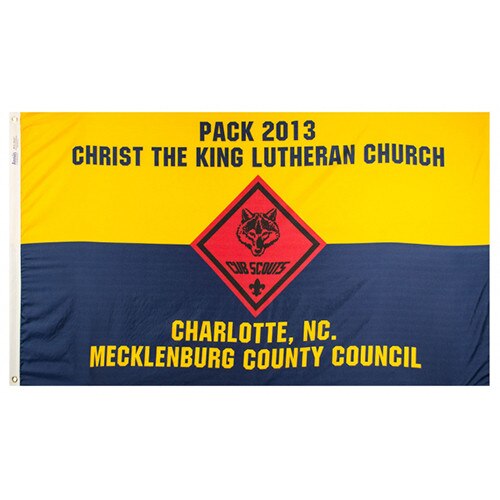 Cub Scout Pack Flag - 3' X 5' Nylon
Details
Full Product Details for Our Custom Cub Scout Pack Flag:
Unify your Cub Scout troop and promote pride with a brightly colored flag that showcases your unique pack information. These flags feature a strong canvas heading, rust-resistant brass grommets, and an officially licensed BSA Cub Scout flag design, perfect for displaying during official troop excursions and more. Fly your Cub Scout flag high and demonstrate your troop's spirit and unity today when you shop at Carrot-Top today!
*NOTE: All designs are based on the image above and will be printed in all caps. All designs are final once you confirm the text information in the pop-up box. BSA does not allow a B or G at the end of a troop number.
3'x5' nylon blue/gold flag with red/black Cub Scout logo

Can be customized with Cub Scout pack/unit number, town/city, and state.

Takes 6–8 weeks for production and delivery

Customized product — cannot be returned

Made in the U.S.A.
Why Buy the 3'x5' Nylon Custom Cub Scout Pack Flag from Carrot-Top Industries?
Elevate your pack's spirit with a striking 3'x5' custom Cub Scout pack flag, expertly crafted from heavy-duty nylon. This Cub Scout flag features distinctive blue lettering against a bold gold background at the top, complemented by gold lettering on a rich blue backdrop at the bottom. The iconic Cub Scout logo in red and black takes center stage, further enhancing the flag's appeal. Designed with a durable canvas header and sturdy brass grommets, this flag will withstand outdoor weather that leaves imported flags in tatters. Personalize it with your pack/unit number, town/city and state, ensuring a unique touch. For veteran units, we offer the inclusion of emblems at no additional cost. Please refer to the Boy Scouts Of America Guide to Awards and Insignia for flag lettering regulations. Proudly made in the U.S.A., this custom Cub Scout flag symbolizes unity and pride for your pack.


THIS CUSTOM PRODUCT TAKES APPROXIMATELY 6–8 AFTER FINAL DESIGN APPROVAL TO BE MADE AND DELIVERED. PLEASE PLAN ACCORDINGLY.


Please complete our contact us form if you require expedited service. One of our dedicated Flag Pros will assist you in getting your product as soon as possible. Please note our custom Boy Scouts of America products are nonreturnable due to their customized nature. For further details, we encourage you to visit our FAQ section. Your satisfaction is our priority, and we appreciate your understanding.


Frequently Asked Questions About Cub Scout Pack Flags
Our Flag Pros are here to field any additional questions about our custom BSA flags via our contact us form. Check out our BSA flag category page for the complete list of styles and designs.
1. Why should our Cub Scout Pack have a flag?
Having a pack flag fosters a sense of belonging and pride among scouts. Cub Scout pack flags may be used during ceremonies, meetings, and events to serve as a visual reminder of your pack's values and goals.
2. What materials are used to make the flags?
Our flags are made of durable 200-denier SolarGuard® nylon and feature brass grommets and a poly-duck canvas header for easy hoisting to your outdoor flagpole. Nylon is our most popular flag fabric due to its ability to fly in all types of weather and stay vibrant through rain, sun, and other outdoor conditions.
3. Can we use our Cub Scout pack flag indoors and outdoors?
Yes, these flags are designed to be versatile and may be used indoors and outdoors. They are suitable for ceremonies, meetings, parades, campouts, and other events. Use flag collars to attach this flag to an indoor flagpole that is 1" or smaller. For larger indoor flagpoles, you can attach the flag using zip ties.
4. How do I properly retire a worn-out Cub Scout pack flag?
When your BSA flag becomes tattered or worn, it's respectful to retire it in a dignified manner. You can hold a flag retirement ceremony following the guidelines provided by the Scouts BSA or other scouting organizations.
Purchase Custom Flags and More from Carrot-Top Flags!
If you purchase the 3'x5' nylon custom scouts BSA troop flag, you may also be interested in our flagpoles and accessories, American flags, military flags, state flags and custom products. We also sell different types of specialty flags.
We offer fast shipping on all in-stock products. Have a question or need help ordering something? Our Flag Pros are waiting to assist you. Please fill out our contact us form and one of our Flag Pros will be happy to get in touch with you!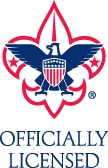 Boy Scouts of America®, BSA®, Cub Scouts®, and Venturing®, are either registered trademarks or trademarks of the Boy Scouts of America in the United States and/or other countries. Manufactured under license from the Boy Scouts of America. All rights reserved.