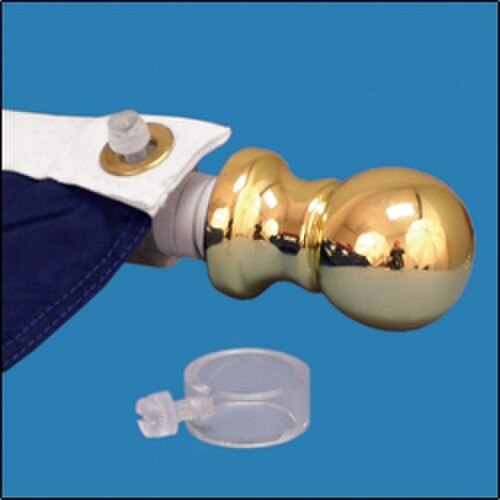 Flag Collar For Spinning Pole
Details
Our flag collar is used to attach flags to our unique and innovative spinning flagpoles. The spinning flagpoles allow for 360° movement when a flag is attached. Spinning poles allow for untangled flag displays no matter how windy it gets.
The use of a flag collar makes it possible to attach any flag with a header and grommets to the flagpole. Read the description tab below for more information.
The PVC flag collars are designed to fit any 1" pole and are recommended to use with our spinning outrigger poles. They are extremely durable and can be used in wet or dry weather conditions. The flag collars are designed to be used with any flag with a header and grommets and feature an extremely simply installation process.
To install and use the flag collar simply slide the circle of the flag collar onto the end of the spinning pole where you want your flag. Loosen the screweye and place it through the flag grommet, then finger-tighten it over the brass grommet for a secure hold. Be careful not to overtighten the screweye or it will restrict the flag's movement. Be sure to purchase a flag collar for each grommet to securely fasten your flag!