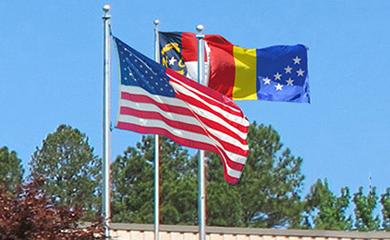 City Flag Program
Carrot-Top Industries' City Flag Program was developed in 2015 to work with cities across the U.S.A. to promote city pride and beautification within the community. Over the years, we would receive calls from city residents interested in buying their official city flag to fly at their home with their state and U.S. flags. We understood how important building community pride is to so many of the cities and towns across America. To meet this demand, we started the City Flag Program to partner with cities like yours by obtaining permission to produce your official flag and make it available for purchase directly on our website.
Call 800-628-3524 to Promote Community Pride and SAVE on Official City Flags.
HOW THE CITY FLAG PROGRAM WORKS
We offer to create your city flag at a reduced rate
You order a minimum of

ten (10) 3' X 5' flags

to keep at your office
We maintain your flag inventory so residents can order online at a reduced price
You sign the City Flag Program agreement
We provide a formal quote and proof of your flag design
Once you approve proof, your flag is printed
You receive ten (10) flags and approve quality
We create a website page for your city flag product and include interesting city facts and photos
You approve your city website page, and we make it live on our website
Link your city government website to your city page on our website
Share your city flag website link and the city flag reduced rate with your:

Businesses
Schools
Organizations
Clubs
Residents
*Note: Online prices do not reflect special discount.