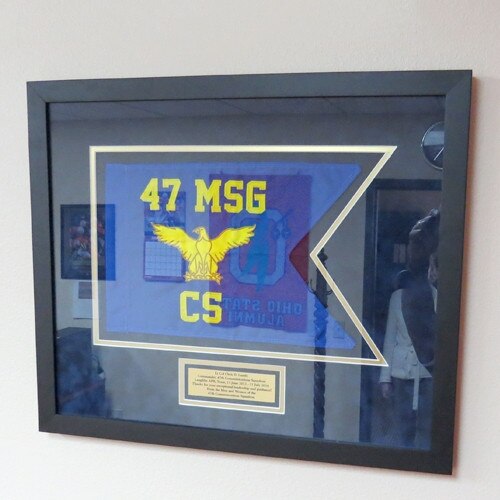 Custom Nylon Guidon Flags
Details
You can create a Custom Nylon Guidon Flag that marks your group or organization in a parade or ceremony! The Custom Nylon Guidon Flag is a rectangular flag with a V-shaped cut at the end and is also known as a swallowtail flag.
Military guidons are used to identify a squad or class at graduations, parades and other events
200 denier nylon
Two rows of stitching at top, bottom and V-shape with double stitching at sleeve side
Use with Indoor/Parade Flagpoles, Guidon Staffs, Outriggers or Super Poles
Proof provided before production
Made in U.S.A.
See below for more information
Why Buy a Custom Nylon Guidon Flag?
Custom Nylon Guidon Flags are a great way to stand out in a crowd or just promote your brand or organization. These military-style guidon flags can be custom-printed with your choice of graphics, and their lightweight nylon construction is durable but can easily flutter and fly in a light breeze. Choose from six standard sizes: 20" x 27 ¾", 2' x 3', 3' x 4', 3' x 5', 4' x 6' and 5' x 8'.
Custom-printed with your design, you can select your finish from a pole sleeve or pole sleeve with fringe. Their unique shape makes a military guidon an innovative way to promote your business, school, city or cause.
With robust double stitching at the top, bottom, V-shaped cut and hoist side, the Custom Nylon Guidon Flag is rated for light to moderate winds. The single-reverse printing process means that your design will display properly on one side, reversed on the other. If you would like your message clearly read on both sides, consider our Custom Double-Sided Nylon Guidon Flags.
PLEASE ALLOW 2-3 WEEKS, AFTER FINAL DESIGN APPROVAL, FOR PRODUCTION AND DELIVERY OF THIS CUSTOM PRODUCT.