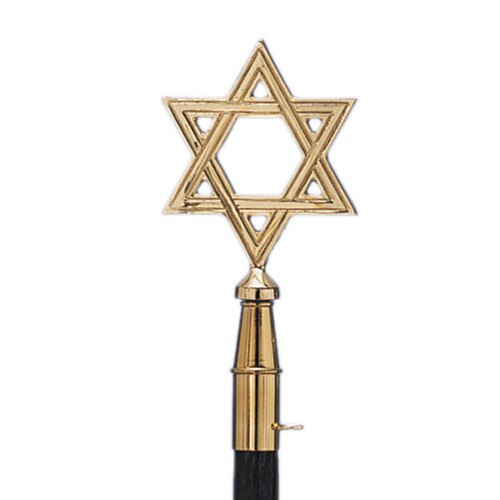 Star Of David Flag Pole Ornament - Brass
Details
The Star of David Flagpole Ornament is a solid brass flag pole topper ideal for long term indoor use and for use with parade flags and parade poles. The flag pole topper features a detailed depiction of the Star of David with its two interlocking equilateral triangles.
The Star of David topper features a polished finish and is ideal for professional or official flag displays. For more information see the description tab below. To order an ornament enter the number of units desired and click on the "Add to cart" button.
The Star of David flag pole ornament is ideal for use with any indoor flag. These ornaments are designed to last for long periods of time in indoor displays. The solid brass construction is completed with a polished finish that adds contrast and attracts more attention. The polished finish is ideal for indoor flags with or without a gold fringe. The Star of David ornament measures 8 ¾" long and is made up of two equilateral triangles placed facing in opposite directions. The Star of David is a common Jewish and Israeli symbol. Our brass Star of David flag pole toppers are made in the U.S.A.
To find more options see our indoor flagpole ornaments category consisting of eagle, spear and a range of other flag pole toppers. Browse our indoor flag pole parts to find more accessories to add to your flag display. Our outdoor commercial flagpoles and residential flagpoles collections house several different options for all-weather flag displays. Carrot-Top Industries is a leading supplier of American flags, Custom made products, military items and several different property and event management products. For more information about any product seen online please fill out our contact us form and one of our Customer Care Representatives will be in touch with you!