40 Years Of Living The Carrot-Top Way
Published on
October 19, 2020 at 7:24:00 PM PDT October 19, 2020 at 7:24:00 PM PDTth, October 19, 2020 at 7:24:00 PM PDT
1980. Mount St. Helen erupted, CNN broadcast for the first time, the Rubik's Cube was introduced and the U.S. defeated the Soviet Union in ice hockey, better known as the"Miracle on Ice." While these 1980 memorable events took place, our founder Dwight Morris had other plans as he began making his biggest dream a reality. He created Carrot-Top Industries out of his Illinois home. Dwight stepped confidently into the flag industry with a passion to build a company dedicated to providing customers with expert customer service and high-quality patriotic and custom products. 40 years later and Carrot-Top Industries is still growing and thriving with the leadership of Liz Morris, Dwight's daughter.
How It All Began
Carrot-Top Industries started as a small operation out of Dwight's home in Oak Park, Illinois, and has grown into a successful business operating out of a 25,000 square-foot facility in Hillsborough, N.C. The company currently employs around 30 team members comprised of Customer Care Professionals, Web Merchandisers, Warehouse Associates, a Finance Department and a Marketing Department to support the e-commerce website and direct mail. With the help of his past and present employees along with his family, the company has grown tremendously. This week, we are all excited to celebrate Carrot-Top's 40 years of being a trusted partner in patriotic and customized solutions for communities across America.
When Dwight set out on this journey, he had high hopes for Carrot-Top's ability to increase patriotism for both businesses and companies. He always says to "Do right by the customer!", and all of our employees live by this motto daily. Carrot-Top is a customer-first organization, and we promise to build strong relationships by catering to customers' needs rather than to our bottom line.

Ready for a flashback? Check out Dwight in a 2016 WFMY News 2 interview talking about proper flag etiquette: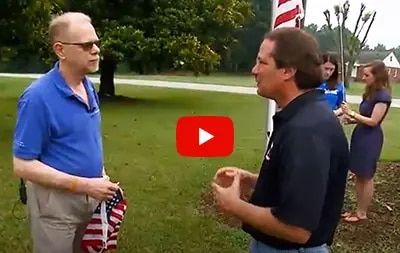 Our Promise
We promise to provide only American-made U.S. flags and the best flag guarantee in the industry. Over the years, Carrot-Top has built solid relationships with our manufacturing partners to deliver only the highest-quality flags and banners to our clients. Our exclusive line of Beacon® and Patriarch® flags are backed by a six-month guarantee against defects, fading and tearing — the best in the flag industry.
Straight from the man himself, here's a nice summary of Dwight's insights from 40 years of customer service:
Always do right by the customer.
Engage in win-win situations.
Have fun!
Don't be afraid to test and fail.
The true definition of success is to build something and for it to continue without me.
Celebrate
Carrot-Top Industries will be celebrating its 40th Anniversary with its employees, friends and family in early 2021 due to COVID 19. We will come back and update you all on the anniversary celebration once it takes place. Most of all, we are very thankful for the customers we have served over our 40 years of service. As Carrot-Top leadership transitioned over to Dwight's daughter Liz Morris, we continue to help our customers make a difference in their communities while looking forward to our future goals.