2013 Bike MS: Historic New Bern Ride
Published on
October 9, 2013 at 3:11:00 PM PDT October 9, 2013 at 3:11:00 PM PDTth, October 9, 2013 at 3:11:00 PM PDT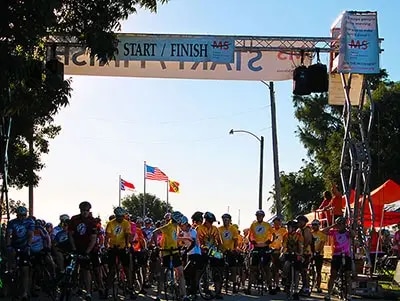 The 25th Annual Bike MS: Historic New Bern Ride took place the 7th and 8th of September and we had the honor of being a sponsor. Currently, multiple sclerosis (or MS) is thought to affect more than 2.1 million people worldwide. Fundraising generated from the ride goes to research and programs for people with MS. With over 2000 cyclists, ages twelve and up, the beautiful waterfront location featured flat landscape and miles of rural roads. This cause offered an amazing experience for even the beginner to participate. Racing began at 8 am in Union Point Park on Saturday and Sunday with a choice of 30, 50, 75 or 100 mile routes including rest stops, medics, mechanics and support. We were excited to be a part of this annual event and contribute to its success as they fight to find a cure.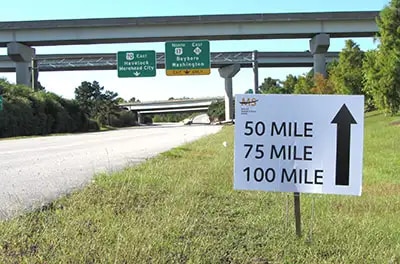 Alyson, one of our talented Contact Center Representatives, began working with Caroline Cooke, the MS Development Specialist, in late June. Caroline was in need of several easy to install signs to alert riders of rest areas and route markers to guide the cyclists. Opting for twelve 24x36" single-sided custom corrugated plastic signs, our graphic artists created the design using the Bike MS logo and specific text. With Caroline's approval, we were able to have the order finalized, produced and delivered within two weeks!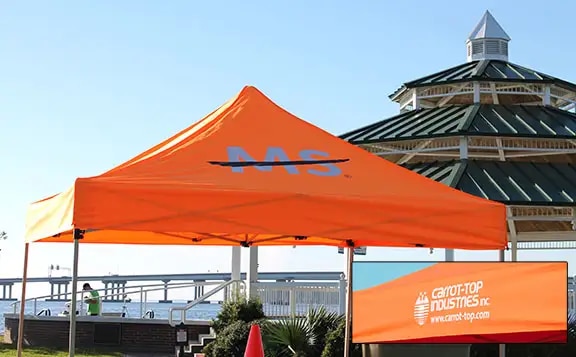 In late July, we finalized an order for fourteen solid color tents and six custom tents which included the Bike MS logo on the front canopy and our sponsor logo on the back. Our tents are able to handle up to 8 imprint locations, allowing you to maximize the available space. We also provided four additional 24x36" single-sided custom corrugated plastic signs that read "Church Services in Progress". These signs were used to remind the event participants to be mindful of the community they traveled through.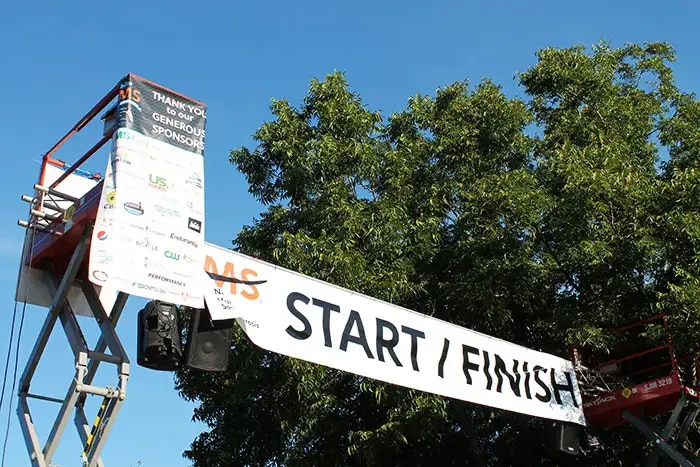 In August, Alyson completed the final orders for the event. We produced a 6x3' custom digital vinyl banner with all of the sponsors names and logos, and the MS Society displayed the banner at the start/finish line. Two additional 2x6' sponsor banners from the team BIOGEN IDEC Rolling Clones and the Cary Reconstruction Refueling Station were also created. Our 4x8' custom vinyl sponsor banner, finished with our company logo and information, was displayed inside the registration area. Several custom corrugated plastic signs of various sizes were added to the order. These items illustrate the versatility Carrot-Top's wide range of custom products allows you to have.
Working with Caroline and being a sponsor for an event that helps make advances in MS research possible has been incredible. The National MS Society hosts 100 fundraising rides across the country where you can be involved. Whether you ride or volunteer, it's worth the experience.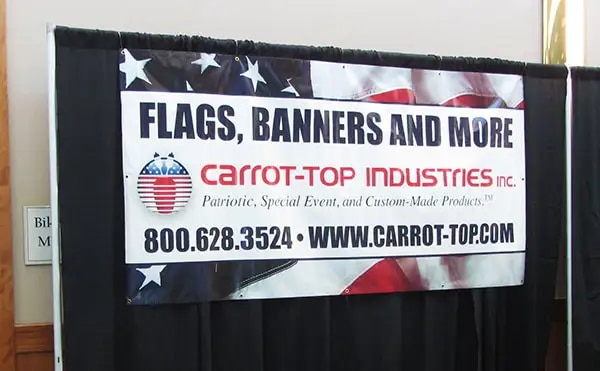 Do you have a special event coming up in your community that you would like to promote with partnering sponsors? With over 30 years of experience working with hundreds of communities every week, from small towns and large cities to schools and universities we understand your needs. Call us today to speak with a dedicated customer service representative and get started creating your next event (800) 628.3524!