Flags for Fallen Vets
Published on
June 28, 2013 at 3:08:00 PM PDT June 28, 2013 at 3:08:00 PM PDTth, June 28, 2013 at 3:08:00 PM PDT
Too often we are distracted by our everyday worries and overlook the sacrifices made by millions of brave men and women to ensure our freedom. Not Bob Fussner, who founded a non-profit organization, Flags for Fallen Vets, which works to honor our fallen heroes. He and his organization's commitment to recognizing our veterans are inspirational and we at Carrot-Top are proud to work with them.
In May of 2012, Bob established Flags for Fallen Vets, Inc., a non-profit organization charged with placing an American flag at the grave site of EVERY veteran at each National Cemetery for Memorial Day. Did you know that close to 800,000 American veterans across the US are not currently given this honor? Bob's organization applies private and corporate donations and the hard work of thousands of patriotic volunteers to ensure Americans never forget those who have served and sacrificed throughout history!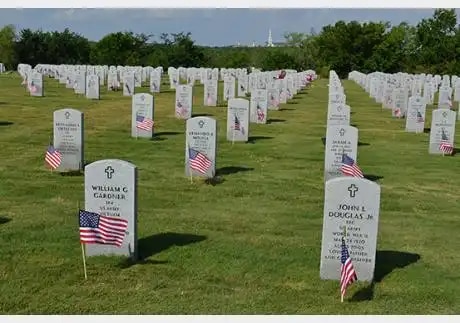 Their inaugural flag placement in 2012 at the Houston National Cemetery included more than 2,800 thankful volunteers. Volunteers arrived as early as 7am ready to honor our veterans by placing almost 67,000 Cemetery Marking Flags in under an hour. While that was quite the amazing feat, their mission was far from over. After Memorial Day, they go back out to remove the American flags from each site to ensure they won't become tattered or blown around. This helps keep our National Cemeteries in pristine condition and avoids showing any disrespect for the sacrifices these veterans made. Flags for Fallen Vets also gives back by having volunteers speak to students in grades 1-12 about patriotism and how they can make a difference.
In late March of this year, Melissa, a sales representative here at Carrot-Top, made contact with Bob after hearing about his organization from a National Cemetery. Bob explained more about the organization's mission to work with all National Cemeteries that need assistance on Memorial Day. Melissa was able to help Bob with their flag needs for the 2nd Annual Dallas-Fort Worth flag placement, which included 1,400 volunteers placing over 31,000 8x12" Mounted US Cemetery Marking Flags in little over an hour.
"If you want everything to fall in place and want to purchase top quality American Made products then use Carrot-Top. I know our organization would never consider using another company." -Morrison R. (Bob) Fussner II, President of Flags For Fallen Vets, Inc.
Next year's event will include a new location, the Florida National Cemetery in Bushnell. There are currently 106,000 veterans and spouses laid to rest at there, bringing the organization's total flag placement to an incredible 215,000 American flags!
Bob's passion and determination continues as he strives to work with the final 9 cemeteries which currently do not have an individual flag placement on Memorial Day. In total there are about 528,600 deserving veterans not being honored each year. To fulfill his mission, Bob needs your help. To financially support Flags for Fallen Vets, click here to donate online.
Carrot-Top Industries is passionate about working with customers like Bob and Flags for Fallen Vets, who have a true understanding of honor and patriotism. Organizations and events like this are near to our hearts as we strive to offer the highest quality American flags, all of which are proudly made in America. We know how important it is to honor those who've made the ultimate sacrifice for our country and we're grateful to help others honor their loved ones.
In addition to providing high-quality American made US flags, we offer a wide range of custom products such as flags, banners, table throws, and tents. Read our other blog post featuring custom flags we created for The Mark Forester Foundation for ideas on how to honor your loved ones. Contact an experienced customer service representative today at 800.628.3524 or shop online at carrot-top.com!