Retire Your U.S. Flag Properly With Our Stars & Stripes Swap Program
Published on
June 19, 2021 at 4:06:00 AM PDT June 19, 2021 at 4:06:00 AM PDTth, June 19, 2021 at 4:06:00 AM PDT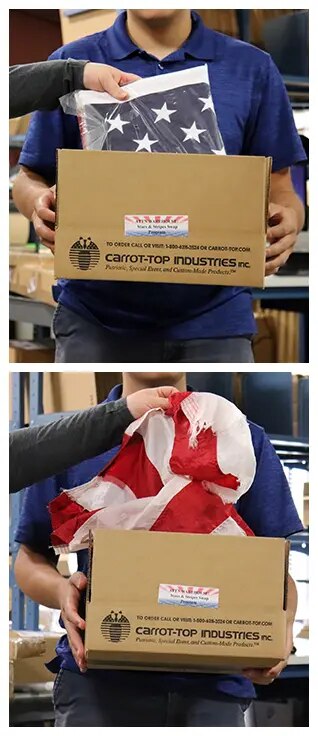 In January 2021, Carrot-Top Industries created a new Stars & Stripes Swap Program to assist our customers with properly retiring their old, worn and tattered American flags in a dignified way when they are purchasing new flags. It is important to our company that no disrespect be shown to the flag of the United States of America even when it is ready to be disposed of. We believe being respectful to the U.S. flag at all times according to the Flag Code and Flag Etiquette, and we encourage our customers to do the same.
With our Stars & Stripes Swap Program, Carrot-Top makes retiring your flag the proper way easy for you. It is a service we provide that lets you send your old U.S. flag to us for proper disposal. We will send you a prepaid label, and all you have to do is box up your flag and send it back. No more searching or wondering what to do with your worn flags. A fee of $15 includes a return shipping label which is good for 10 flags that will fit in one box. A portion of the $15 fee will be donated to select charitable organizations. Keep in mind that flags 8' x 12' and larger would need a label purchased for each flag. Every time you order a new U.S. flag, just add the Stars & Stripes Swap service to your order to make it easy to dispose of your old flag in one step.
Our primary goal is to help our customers avoid throwing old U.S. flags in the trash. Our service saves you time in researching where to take your old flags for proper disposal. Local Boy Scout Troops help us with the disposal of our customers' frayed U.S. flags according to flag protocol, usually through a flag retirement ceremony where the flags are burned in a dignified way. We enjoy working with local troops and participating in their learning process of the flag code and proper disposal of the emblem of our country.
If you have questions about our Stars & Stripes Swap Program, email us at service@carrot-top.com or call 800-628-3524.
Email us at marketing@carrot-top.com to share your comments or questions about this blog. You may also email us if you have a topic you would like for us to cover or if you are interested in submitting an article as a guest writer.