When it comes to soccer, it's the women who have led the way. Perhaps it was Mia Hamm and the world Cup team of 1999 who started it, but soccer-- sometimes called the world's sport-- truly has begun to take hold in the U.S. Admitted or not, we owe a great deal of that progress and popularity to the US Women's National Soccer Team, both the current team and those prior. Their triumph not only symbolizes how much we as Americans love to win, but it also demonstrates that success is not just about winning. It's about class, professionalism, focus and hard work. The women of the US National Soccer team have proven once again that a team is always greater than the sum of its parts and that Americans don't settle, blame others or make excuses. We work harder.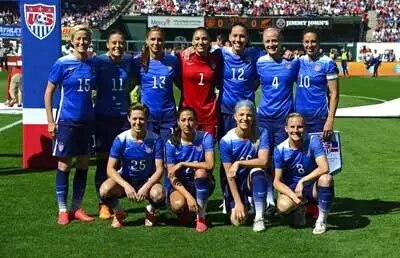 Ironically, many of the tough issues facing the US women's team were situations off the field (or pitch). Legal predicaments, slight jabs by a former US coach- now the coach of her native Sweden- and even unprofessional (though flattering) comments about their looks were all distractions the US women choose to ignore. Their focus led them out of the Group of Death (against Australia, Nigeria and Sweden) with two victories and a tie. Their performance left many concerned about US scoring power, particularly in light of Germany's 10-0 win over Ivory Coast in the first round. Nonetheless, the women stayed focused. They demonstrated that being the best means beating the distractions. Three years ago Columbian player Lady Andrade punched Abby Wambach in the 39th minute of an Olympic match. As the teams met again this year, the US used teamwork as its greatest asset to defeat dirty tricks and character assaults. With wins over China, no. 1-ranked Germany and ultimately Japan, the US woman captured the US World Cup Gold Medal in stunning fashion. Traditionally, national soccer teams place a gold star on their uniforms to symbolize World Cup victories. The US women now will have three.
One of the lessons learned from the current World Cup champions is not that athletic prowess is the key to victory or that intimidation and unsportsmanlike conduct are tools to be used when faced with difficult struggles. Rather it's that teamwork and discipline matter and make the difference on a world stage crowded with talented athletes. The US women's National Soccer team consists of students, wives, mothers, sisters and daughters. Better still they are our students, our wives, our mothers, our sisters and our daughters. And yes, they are Americans, our Americans. So as you wave your American flag high, remember the pride and class of the US Women's National Soccer team. Remember that teams and teamwork are what make America strong. Whether at work, school, and church or in our neighborhoods, the strength of America begins with our ability to work together and make things happen. The victory, America's victory, is there waiting for us to grab it— each of us helping another, together as one. The women are already leading our way.