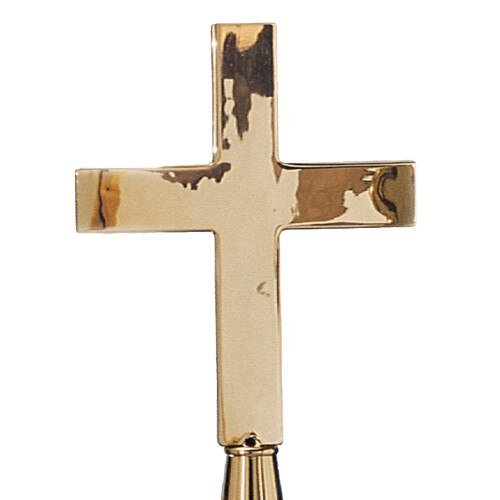 Brass Cross Flagpole Ornament
Details
Our 9 ¼" brass cross flagpole ornament has a classic, pristine finish. With a removable bottom ferrule, this flagpole ornament will coordinate seamlessly with any Indoor Flagpole Mounting Set offered from Carrot-Top Industries. To order this ornament, enter your desired quantity then click "Add to Cart". For more information on this ornament, please see our description tab below.
Our 9 ¼" Plain Church Cross flagpole ornament is fashioned from solid brass and displays a polished, lacquered finish. This church cross features a removable ferrule which affords you the option of using your ornament with any of our Parade or Indoor Pole Sets. You have the option of using this ornament with the ferrule which will slide directly onto the top of the pole and secure with a set screw. An additional option is to remove the bottom ferrule and screw the ornament directly into the pre-drilled area at the top for placement onto our Aluminum Parade Poles.
In addition to the Plain Church Cross Topper, there are many other Flagpole Ornament designs available. With options made of plastic, brass, aluminum and chrome, we are sure to have the ornament to complete your flag display to your liking. Carrot-Top Industries also offers a wide variety of indoor and parade style United States flags, as well as outdoor flags of the same design, which provide a nice presentation when paired with our indoor pole sets. If you are looking for a personalized design, please browse our Custom Flag page for information on creating a flag to match your vision. For more information on items mentioned on this page or to inquire about items not found on our website, please fill out our contact us form and one of our Customer Care Representatives will reach out to you!