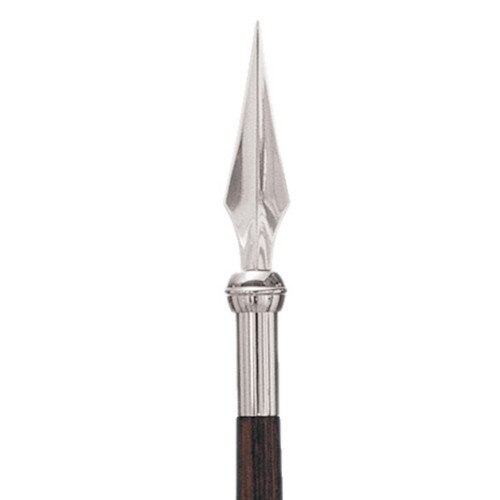 Chrome Flagpole Staff Spear
Details
A Chrome Flagpole Staff Spear lends a traditional, ceremonial touch to any indoor flag display.
Chrome Flagpole Staff Spear flagpole toppers are used by various military branches
Solid metal with chrome plating
Total length is 8 ½" with a circumference of 3 ½"
Ferrule for attachment to pole is 3" long and removable
Perfect for use with Carrot-Top's Jointed Oak Indoor Flagpole and Majestic™ Telescoping Pole
Usable with other flagpoles; adapter needed (sold separately)

Proudly Made in U.S.A.
Why Buy a Chrome Flagpole Staff Spear?
There's a timeless touch of elegance to a Chrome Flagpole Staff Spear atop an indoor flagpole. These flagpole ornaments are perfect for ceremonies and events, or anytime you just want to lend a little more prominence to your indoor flagpole. The chrome finish will never rust or discolor and will keep its brilliant shine for years.
A Chrome Spear flagpole topper is recommended for use with Carrot-Top's Jointed Oak indoor flagpole or Majestic™ telescoping flagpole.