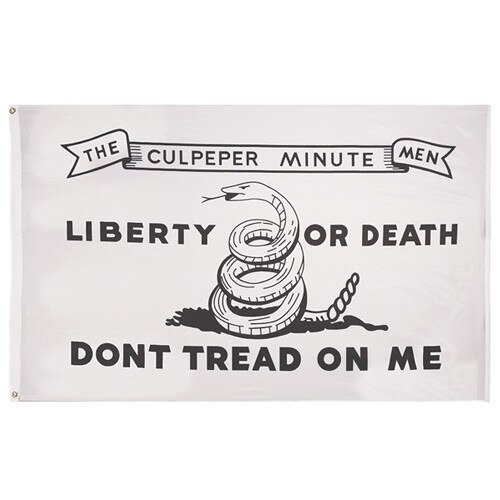 Details
Culpeper Flags honor the Spirt of America's fight for freedom which is emphasized with the words "Don't Tread on Me." The flags make bold statements about America's past, present and future whenever they are displayed. These historic flags celebrate America's path to democracy and the nation's will to be free. These flags:
Are fashioned with 100% strong, woven nylon
Available in 3'x5'
Have a strong, sturdy canvas header
Solid Brass Grommets
Showcase beautifully stitched seams
Are tough and strong yet lightweight
Are designed for moderate climate areas and mild winds
Culpeper Flags Minutemen flags will show off your American pride and patriotism with style. These flags look great in almost any location and are flown to remind us all of America's triumph and path toward freedom and independence. Culpeper flags also denote the will of Americans to overthrow oppression and stand up against forces seeking to defeat us.
The Culpeper Minutemen was a militia that formed in Culpeper, Virginia in 1775. These flags were inspired by the flag that Colonel Gadsden had created earlier. The Culpeper Minutemen add the words, "Don't Tread on Me" and would later add the message, "Liberty or Death".
Carrot- Top fashions a wide variety of products ranging from Historic U.S. flags and Historic International Flags to products such as our US historic lapel pins, Military lapel pins and patriotic décor. Our American flags are the finest flags obtainable and include our Beacon® Nylon American flag and Patriarch® Polyester Flag. Both are exclusive Carrot-Top fabrics. For more information about Culpeper Flag, US Historic flags, and our entire flag collection please fill out our contact us form and one of our experienced Customer Care Representatives will reach out to you!