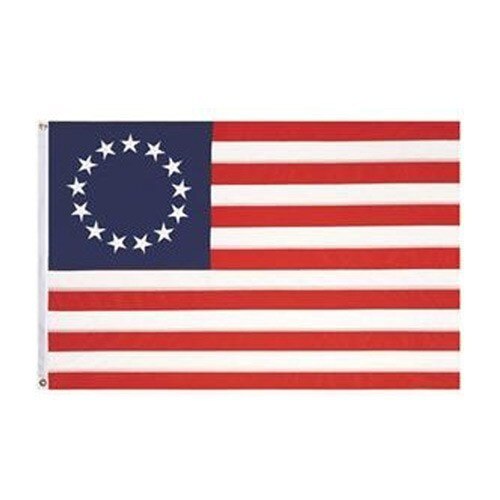 Betsy Ross Flag (13 Colonies Flag) - Embroidered Nylon 3' X 5'
Details
The Embroidered Nylon 3' x 5' Betsy Ross Flag is a great addition to any historic American Flag display! It combines this historically-significant flag with modern materials that are easy to maintain and lightweight.
200 denier Nylon flag features sewn stripes, embroidered stars and brass grommets for long wear
Intricately sewn stripes and embroidered stars
Resistant to fraying and fading with 4 rows of lock stitching at fly end
Two rows of stitching at heading
Made in U.S.A.
Why Buy an Embroidered Nylon Betsy Ross Flag?
The Embroidered Nylon Betsy Ross Flag is fashioned from lightweight nylon that can flutter and fly in the slightest breeze. Its rich colors are UV-resistant and won't fade after exposure to sunlight, and its densely-stitched embroidered stars are a bold contrast on the blue field.
Questions? Please fill out our contact us form and one of our Customer Care Professionals will be be in touch with you!