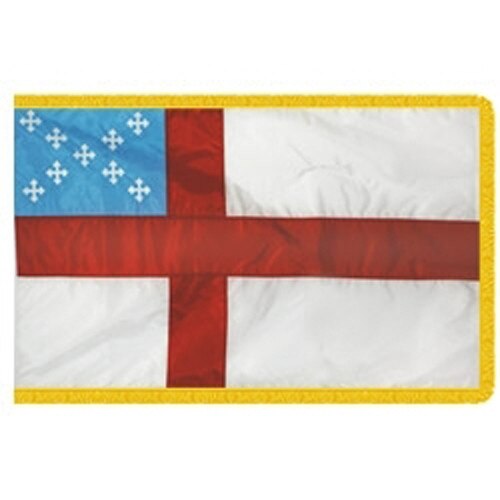 Details
Indoor Episcopal flags are crafted with beautiful 200 denier nylon and create dynamic displays in your church, home, office, or location. The Episcopal flag was designed in 1918 while celebrating of the 50th anniversary of the Long Island Diocese. The smaller Jerusalem crosses in the flag's canton pay homage to nine parishes in the Philadelphia area that convened in 1789 when the Protestant Episcopal Church was adopted. The larger Red Cross represents St. George, the patron saint of England. For more information about Indoor Episcopal flags see the description tab below.
Indoor Episcopal flags are available in two sizes: 3'x5' and 4'x 6'. These flags are intended for use in areas with mild to moderate winds. The craftsmanship of the Indoor Episcopal flag features exquisitely stitched, fray resistant seam, bold vibrant colors and beautifully woven nylon. The flags are also finished with a lined pole sleeve and plush traditional gold fringe around three sides. Be sure to browse Carrot-Top's collection of flagpoles for the best match to create the perfect display. Carrot-Top flagpoles include several options to create a classic look.
Carrot-Top fashions all types of flags, custom products and patriotic items. Our flags include American flags, US State and City flags, international country flags, sports flags, and more.