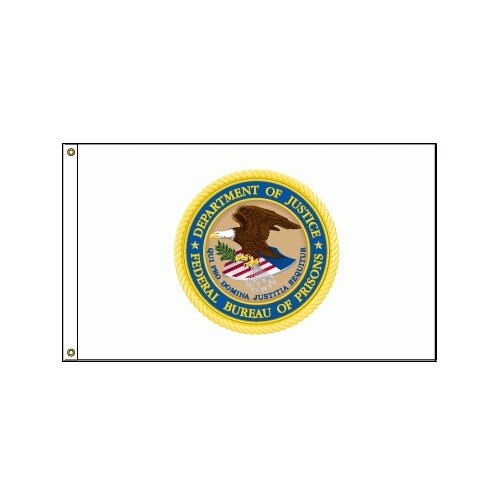 Federal Bureau of Prisons Flags
Details
Full Product Information for Federal Bureau of Prisons Flag:
Clearly mark your federal prison with a Federal Bureau of Prisons flag. These flags feature the Bureau of Prisons seal digitally printed on durable nylon fabric designed to withstand the conditions of your environment.

Available in three standard sizes: 3'x5', 4'x6', 5'x8'

Choose between indoor and outdoor styles

Printed in single reverse fashion with mirror images on both sides

Intended for purchase by federal and state agencies only

Note the seal is identical to that of the Department of Justice except for the words "Federal Bureau of Prisons" printed on the outer blue circle.
Why Buy Our Federal Bureau of Prisons Flag?
All our Federal Bureau of Prisons flags feature the exact colors specified by the governing authority printed on nylon for all-weather use. Nylon is the preferred flag fabric because it can withstand wet weather and fly during gentle wind. Because nylon is lightweight, you can place on the wall, hoist it on an in-ground flagpole, or use it indoors.
Flags for Indoor and Outdoor Use
We sell five versions of the Federal Bureau of Prisons flag covering indoor and outdoor use.
Outdoor Federal Bureau of Prisons Flag
Our outdoor Federal Bureau of Prisons flag comes in three sizes to match the size of your flagpole: 3'x5', 4'x6', and 5'x8'. These flags are suitable for flagpoles 20' to 30' in height. Each outdoor flag is finished with a strong canvas header and two rust-resistant brass grommets that attach easily to your flagpole using halyard.
Indoor Federal Bureau of Prisons Flag
Designed for use with our Majestic™ Telescopic Pole Sets, these flags have a pole sleeve that slides easily over any indoor or wall-mount flagpole. Choose between two standard flag sizes: 3'x5' and 4'x6'. Gold fringe lines the perimeter of the flag, adding an elegant, formal touch.
What is the Meaning Behind the Federal Bureau of Prisons Flag?
The Federal Bureau of Prisons is a subdivision of the Department of Justice responsible for administering the federal prison system. The Department of Justice seal featured on the Bureau of Prisons flag looks similar to the Great Seal of the USA and features an eagle with its wings outstretched. The eagle carries an olive branch and arrows in its talons while flying atop a USA shield. The olive branches has 13 leaves representing the 13 colonies. Within the seal are the words "Qui Pro Domina Justitia Sequitur." This translates to "who prosecutes on behalf of justice."
Pair Your Flag with Other Flags!
Fly your Federal Bureau of Prisons flag alongside our quality outdoor American flags to showcase your patriotism. We recommend pairing your flag with a matching fabric to keep your display uniform. Our Beacon® Nylon American Flag comes in several sizes and designs for indoor and outdoor use.

If you plan to fly your Federal Bureau of Prisons flag on the same flagpole as your American flag make sure your USA flag is at least one size larger and always flies on the top. Carrot-Top also carries all 50 state flags.
Carrot-Top: The Premier Flag Provider for Businesses and Government Agencies
Our selection, unbeatable customer service, and 40 years of experience are why we're the preferred flag retailer for official government agencies. Check out our full selection of American flags and government flags on our category page. Those that need help ordering can fill out our contact us form to reach a Flag Pro.