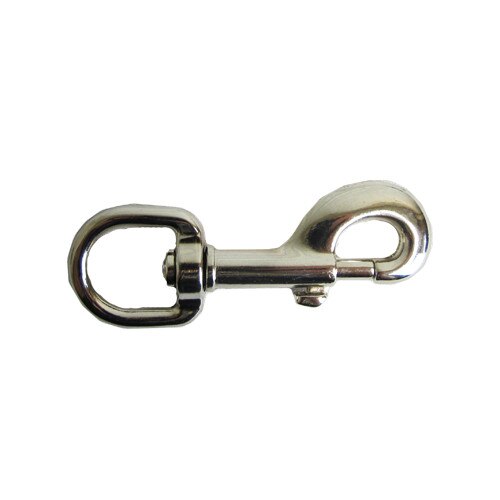 Flag Snap Hook-Small Nickel-Plated Zinc
Details
Our silver flag hooks are ideal for use with any flag pole in an outdoor setting. Our silver flag hooks are made of zinc and plated in nickel to give it a layer of protection. These hooks are finished with a shiny silver outer coating.
These silver flag hooks are ideal for flag sized between 2'x3' and 6'x10'. These snap hooks are ideal for satin finished or silver finished flag poles to reduce marking and damage to the flag pole. For more information about our silver flag hooks see the description tab below.
Silver flag hooks are ideal for pairing with satin finished or silver anodized flag poles. These flag hooks are great for attaching your outdoor flag to a halyard rope. Our silver flag hooks measure 3¼" and are designed to be used with any outdoor flag with a header and grommets. These hooks can be used with flags measuring 2'x3' to 6'x10'. Larger flags require a large brass flag hook.
Carrot-Top is a one-stop-shop for all things flag related. See our flag poles, ideally designed for all settings. Our exclusive Majestic™ flag poles feature the architectural, commercial and light commercial flag poles. Our extreme flag pole is perfect for areas with high winds and can even stand up to hurricane force winds when no flag is flying. Browse through our expansive range of American flags, featuring flags of all sizes and made of several different fabrics. For more information about any of the products featured on our website please fill out our contact us form and one of our customer care representatives will reach out to you!