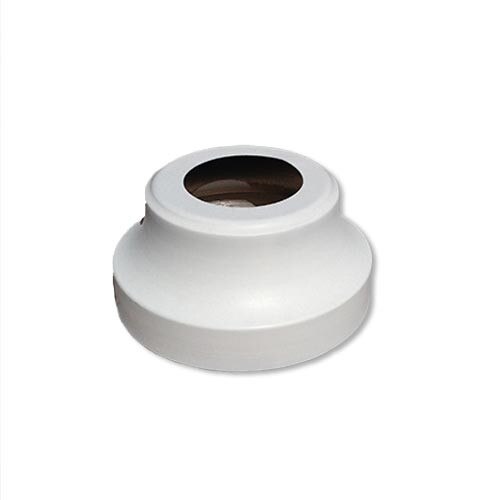 Hinged-Base Fiberglass Flagpole Flash Collar
Details
Our Hinged-Base Fiberglass Flagpole Flash Collar is an optimal component for the base of your flagpole.
Designed for use with our 20', 25', 30', 33', 35' and 40' Fiberglass Flagpoles with a Hinged-Base
Conceals the hinged-based hardware for a presentation that is pleasing to the eye
Protects the base of the pole
Constructed of a UV-resistant polyethylene material which is lightweight yet durable
The Hinged-Base Fiberglass Flagpole Flash Collar measures 14" in diameter with a height of 4". Made from flexible yet durable, UV-resistant polyethylene, this flash collar will withstand the elements as well as the occasional bumps or taps from a lawnmower or weed eater. With a crisp, white finish, this collar will also assist with the seamless finishing of your fiberglass flagpole display.
In addition to Flash Collars, Carrot-Top Industries also offers a wide selection of flagpole accessories for indoor presentations and outdoor displays. Everything you would need, from outdoor snaphooks and halyard to indoor floor stands and a wide array of indoor flagpole options, is available through our company. Along with indoor and outdoor accessories and replacement components, we at Carrot-Top Industries are proud to offer 100% American-made United States to our first-time and long-term customers alike. Our indoor United States flags are available in a variety of sizes and are guaranteed to pair beautifully with the appropriately sized indoor flagpole. Exclusively designed for Carrot-Top Industries is our Beacon® Nylon and Patriarch® Polyester American flags. The Beacon® is recommended for light to moderate weather conditions while our Patriarch® is constructed with a more extreme weather environment in mind.
For further details, please fill out our contact us form and one of our Customer Care Representatives will be in touch with you.